Every Sunday at 8am join a small army of runners to explore Auckland's most beautiful spots on foot. Join our Auckland Sunday running group!
These social runs are totally free-of-charge and ideal for EVERY level of runner. Plus, you don't have to be a TempoFit member. At every run we have options to complete just 5k all the way up to 30k +.
Our TempoFit pace leaders guide groups at the following paces: 4:30, 5, 5:30, 6, 6:30 & 7min/km. So find a group that works for you and enjoy discovering Auckland's best runs with great company.
And we're on rain, hail or shine.
NOTE: All runners run at their own risk and agree not to hold TempoFit or any run leaders responsible for any injury or damages to their person or belongings.
We also run during the week, but those are our paid, group coaching sessions. You can find out more here. 

Below are our upcoming runs and follow our Facebook page for details. And here's a full list of our favourite Auckland runs.
SPRING 2017
10 September: Zoo + City Loop
From Auckland Zoo (Western Springs) we'll head north through Seddon Fields, east through Westmere and Herne Bay to reach the waterfront paths of Westhaven and the Viaduct. From here we'll join the bike paths heading up Grafton Gully and alongside the motorway to find our way bike to Western Springs, finishing off with a gentle jog around the lake and a coffee or two at the zoo cafe.
Meet at Auckland Zoo car park.
Distances: 5k, 10k and 17.5k + options to go longer (via Meola Reef)
Map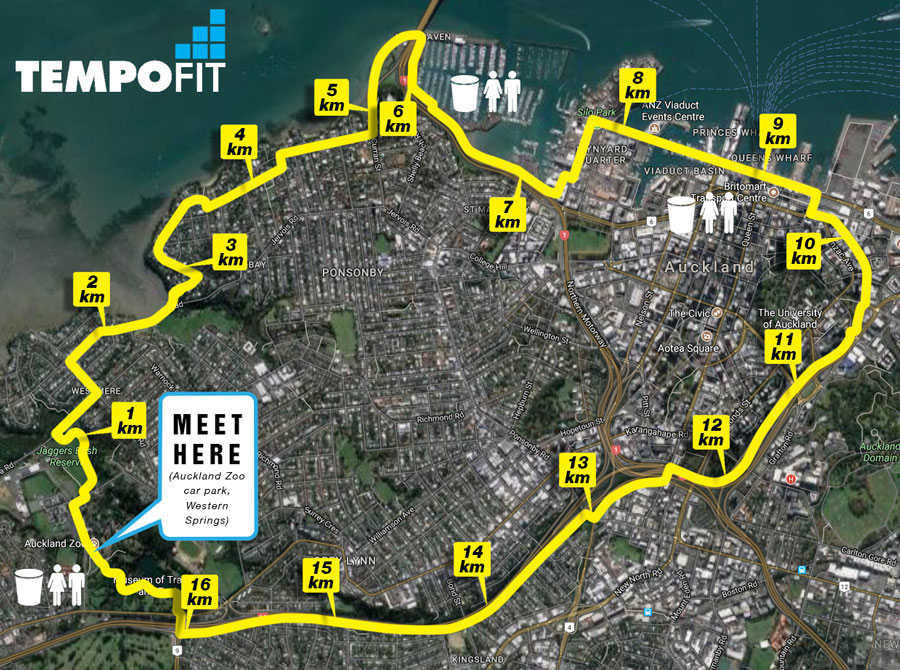 17 September: Devonport
Today we're going to explore some of the beautiful coastal reserves around the sleepy suburb of Devonport with this 10k loop.
If you'd like to add on more distance, we'd recommend making another trip back along the coast to North Head, adding another 4-6k depending where you go once at North Head.
Meet at Devonport Library (Winsor Reserve, King Edward Parade)
Distances: 6k, 10k, 15k +
Download the map
24 September: Devonport Half Marathon
No TempoFit group run this week. Join us at Devonport Half Marathon!!
1 October: Titirangi – 14k/21k/28k
This is the classic Waiatarua Loop that kiwi running legends Peter Snell, Arthur Lydiard, John Walker, Murray Halberg and even our modern Olympians like Hamish Carson train on. It is on road until we reach the Arataki Visitor Centre when we switch to a 5k section on well formed gravel trails. This is a dangerous road with limited footpaths so please wear hi-vis clothing and keep well left (and no headphones please!).
At the 6.5k mark there is a turn off to the shorter 14k option via Shaw Road. Water and toilets available at the visitor centre. Those doing more than the 21k loop, do an out-and-back along the full length of Exhibition Drive (7k—assuming you don't drop all the way down to Huia Road).
Meet at the car park on the corner of South Titirangi and Titirangi Roads.
Distances: 14k/21k/28k
Download the map of the full loop and the Exhibition Drive out-and-back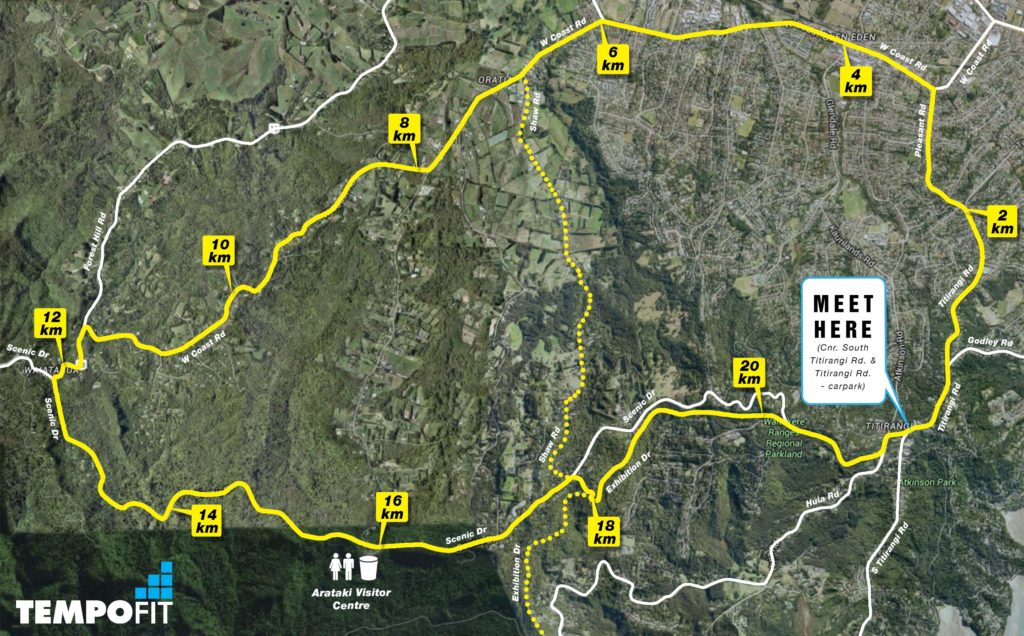 8 October: Tauranga International Marathon
No TempoFit group run this week. Join us in Tauranga (7 Oct)!!
15 October: Hobson Bay & Orakei Basin – 10k/17k/26k
This classic Mission Bay loop is a must-run for all Aucklanders. We'll start on the flat of Tamaki Drive before completing a loop around both Orakei Basin and then Hobson Bay. There are a couple of hills on both these loops but we finish back on the flats of Tamaki Drive where you can add on distance. Those running shorter can turn back at their desired point.
Meet at 8am at the car park opposite Mission Bay's Berkeley Cinemas.
Distances: 5, 10, 17.5k +
Download the map.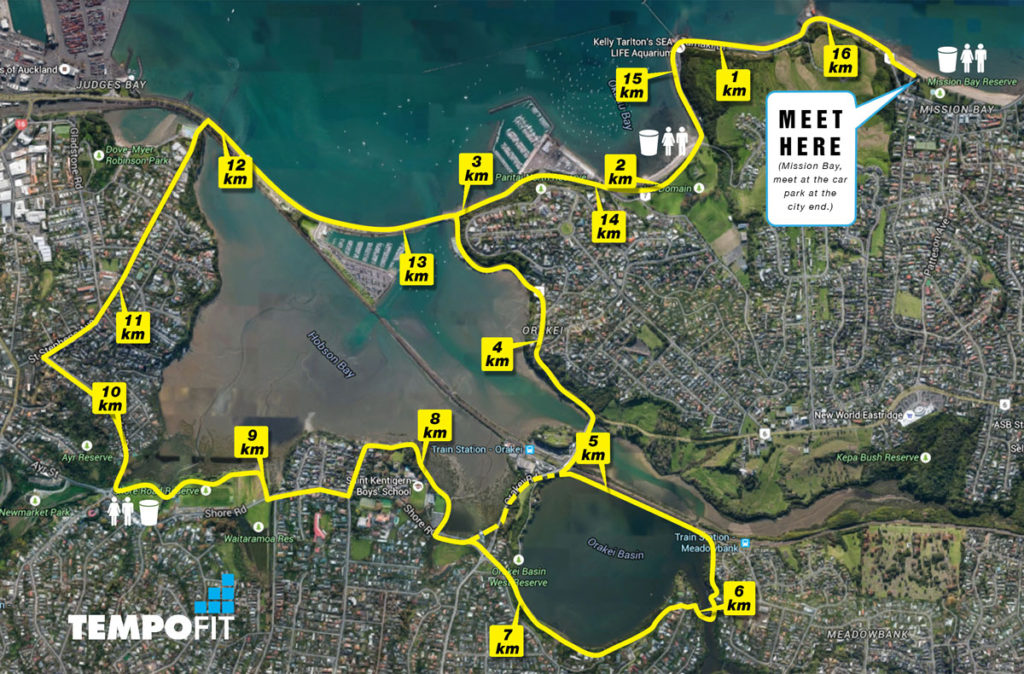 22 October: Takapuna Beach Cafe, Takapuna – 15.5k
From the cafe we'll first head down the coast along the beach and then jump over to the Greenway and follow it south along the western side of the peninsula to reach Devonport. From here we'll follow the Auckland Marathon course back north to Takapuna.
This full loop is 15.5km but if you'd like to make it 13k, head left via Seabreeze Rd to Narrow Neck Beach (you'll still experience the main two hills of the Takapuna section of the Auckland Marathon course).
To make it 9k, head left along Bayswater Ave to Lake Road.
Meet at Takapuna Beach Cafe (22 The Promenade)
Distances: 10k, 13k, 15.5k or longer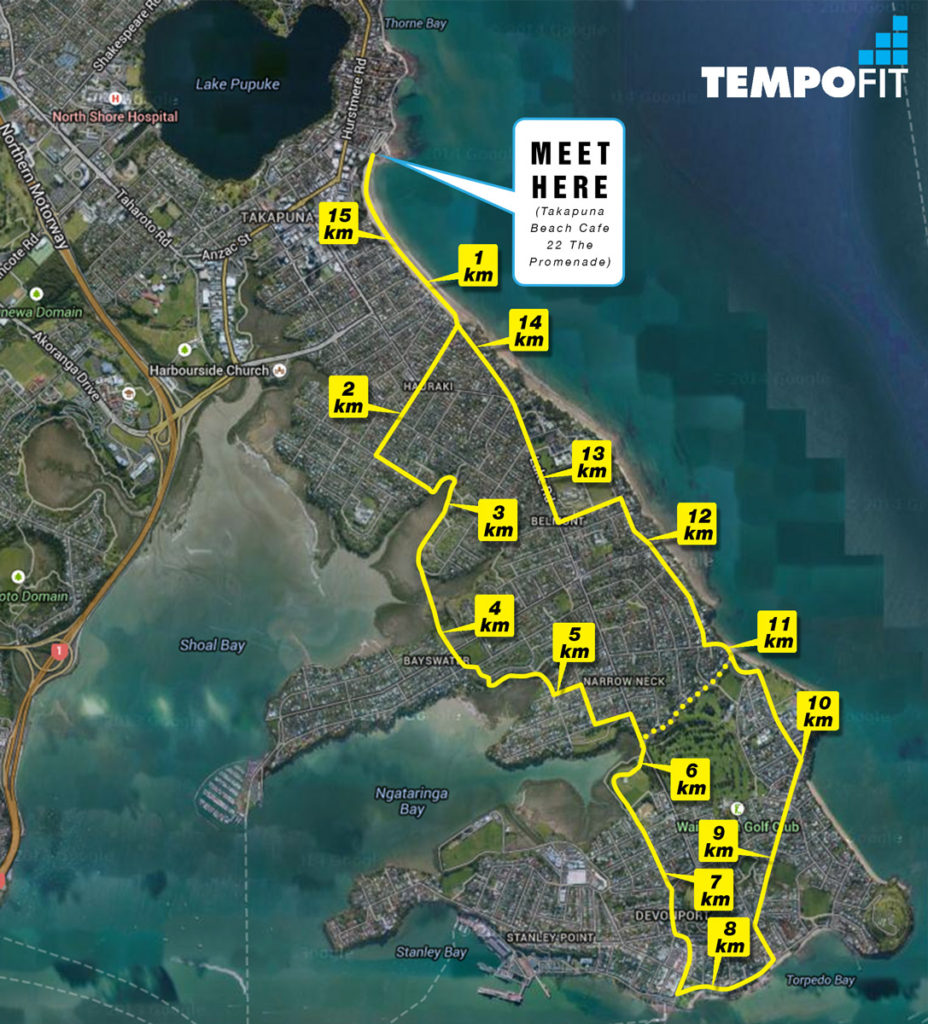 29 October: Auckland Marathon
No TempoFit group run this week. Join us at Auckland Marathon!!
5 November: Piha Trails
The most iconic of Auckland's beaches with big surf and brilliant trails.
The routes we are doing will include a first visit out to Kitekite Falls (a lollipop return trip via Glen Esk Rd, Kitekite Track, Knutzen Track). This out-and-back loop is 5k with some more mild hills in it.
For those going longer, we'll peel off to the right at the top of Glen Esk Rd to follow Piha Valley Track, Centennial Track, Quarry Track, Maungaroa Ridge Track, Maungaroa Lookout Track and Garden Road back to the cafe. This creates a total run of 15k but includes a lot of hills so is worth a lot more than 15k (more like 20-21k on the flat).
To cut this longer route shorter to about 12k, take the Mckenzie Track from the Mckenzie Junction back to Piha Valley Rd and Glen Esk Rd.
To go longer, run north along the beach to Laird Thomsen and Whites Tracks.
Bring a friend or three! Stick around for a swim, coffee at the cafe and chill at the beach. And use the comments section below to arrange car pooling.
NOTE: Please bring suitable footwear (particularly if wet), water to carry when running (and gels or other on-the-run snacks), maps (saved to your phone for offline access), and have the track route written down so you can find your way if you get separated from your pace group.
Download the trail map here and carry it on your phone during the run.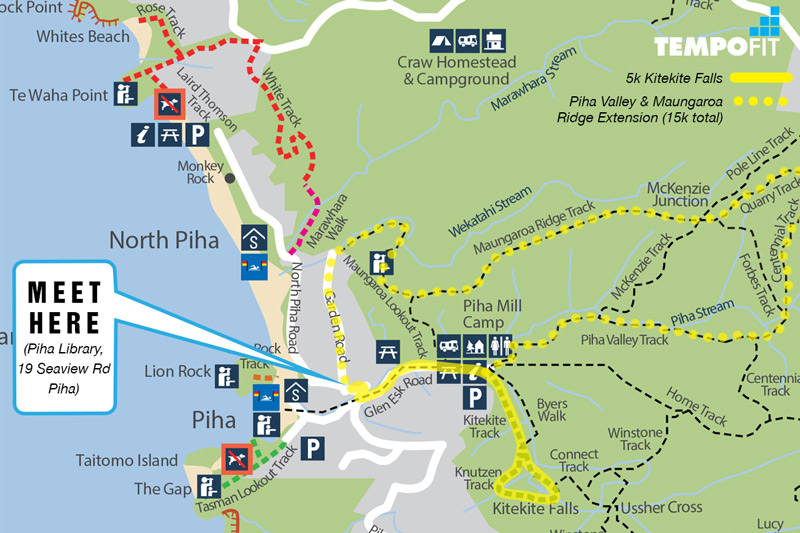 12 November: Mission Bay Two Lookouts
From Mission Bay we'll make the short journey west before along Tamaki Drive before climbing up to the trig at Bastion Point. We'll retrace our steps back to Mission Bay before heading out to the lookout at Achilles Point. Retracing our steps one more time back to the beach and cafes of Mission Bay to finish a nice cruisy return to our Sunday runs.
We will also have an optional extra 3k excursion into the trails of Dingle Dell Reserve (at St Heliers) on the way back to Mission Bay.
Meet at 8am at the car park opposite Mission Bay's Berkeley Cinemas.
Distances: 5, 11, 14k + options
Map: http://www.mapmyrun.com/routes/view/1093929752

19 November: Maraetai – 18k/32k
This is a stunning seaside run with a great cafe and beach to relax at once all the running has been done. Of which there is plenty of running out here!
We'll head west first heading along the coast to the marina at Beachlands, before retracing our steps back to Maraetai (18k in total). For those going longer there is a great 14k out-and-back to Duder Regional Park heading east along the coast road.
Meet at Maraetai Wharf (231 Maraetai Drive)
Distances: 10k, 18k and 32k +
Download the map.
Maraetai to Duder 14k add on map.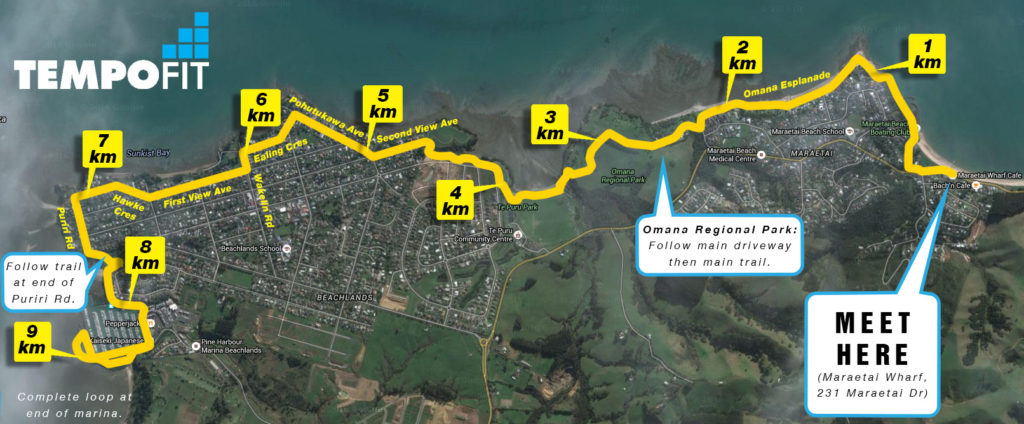 PREVIOUS RUNS
Check out some of our favourite running routes around Auckland here.