Every Sunday at 8am join a small army of runners to explore Auckland's most beautiful spots on foot. Join our Auckland Sunday running group!
These social runs are totally free-of-charge and ideal for EVERY level of runner. Plus, you don't have to be a TempoFit member. At every run we have options to complete just 5k all the way up to 30k +.
Our TempoFit pace leaders guide groups at the following paces: 4:30, 5, 5:30, 6, 6:30 & 7min/km. So find a group that works for you and enjoy discovering Auckland's best runs with great company.
And we're on rain, hail or shine.
NOTE: All runners run at their own risk and agree not to hold TempoFit or any run leaders responsible for any injury or damages to their person or belongings.

Below are our upcoming runs and follow our Facebook page for details. And here's a full list of our favourite Auckland runs.
WINTER 2017
18 June: Mission Bay – Tahuna Torea
From the well-worn paths of Tamaki Drive we'll head into the lesser known, but incredibly scenic, parks of St Heliers and Glendowie. The full out-and-back course is 17.5k with a fair amount of hills from St Heliers onwards. There are also options to run 5k (to St Heliers and back), 10k (turn back after a loop of Glover Park) and to go longer than 17.5k (along Tamaki Drive).
Meet at 8am at the car park opposite Mission Bay's Berkeley Cinemas.
Distances: 5, 10, 17.5k +
Map: http://www.mapmyrun.com/routes/view/922016101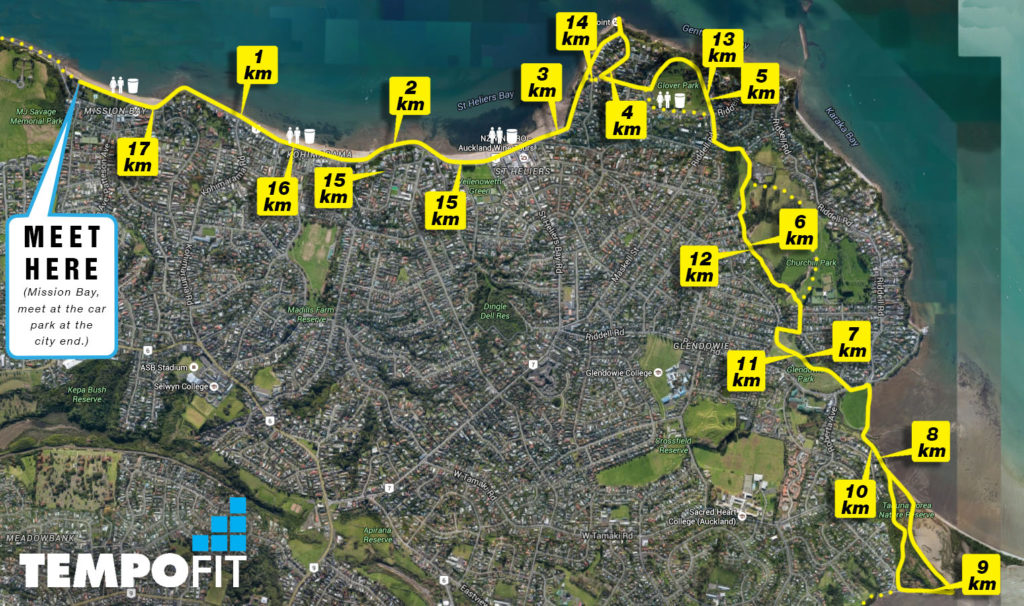 25 June: Mt Eden Trail Challenge
This is a timed run that is open to everyone to join. It's not an official race, but is a good chance to test yourself out on the trails and terrain at one of Auckland's iconic spots.
This run is our Sunday Group Run for the week so, as usual, it's open to everyone and anyone to join. We're meeting at 8am at the roundabout at the on Puhi Huia Rd.
8am – meeting and run briefing
8:05am – warm up and get-to-know the course
8:30am – official run start
The main course is 5.5km long with over 300m of vertical, so it's ideal training for any trail races you might have coming up. This is not an official race so everyone takes part at their own risk and you should know the route well enough to follow it on your own.
Bring your trail shoes (there's about 1km max of sealed road and the remainder is either well-formed trail or goat tracks).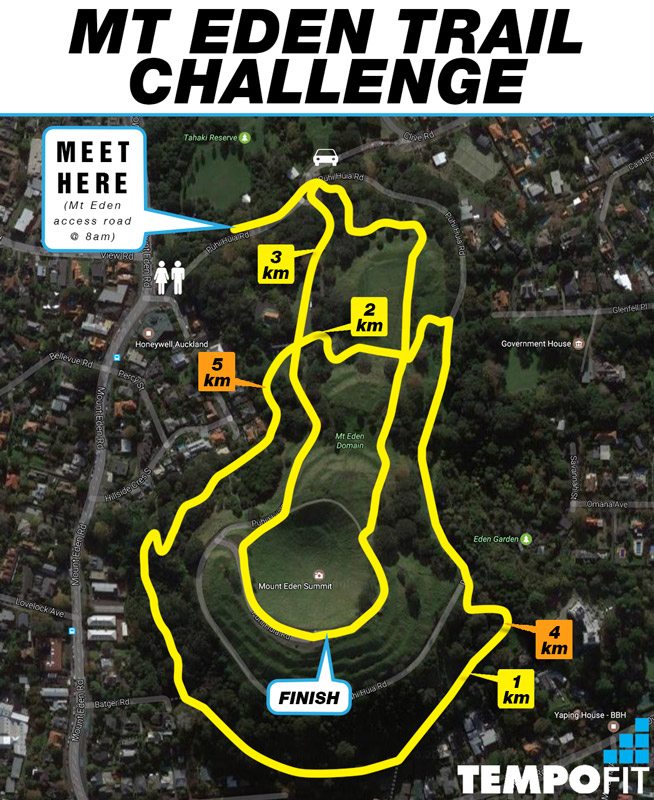 Mapmyrun Map: http://www.mapmyrun.com/routes/view/1634575150
2 July: RUN AUCKLAND: Western Springs
We're pacing the Run Auckland 5k and 10k again. But we will also have a social group run (more details to be announced shortly).
PREVIOUS RUNS
Check out some of our favourite running routes around Auckland here.