Every Sunday at 8am join a small army of runners to explore Auckland's most beautiful spots on foot. Join our Auckland Sunday running group!
These social runs are totally free-of-charge and ideal for EVERY level of runner. Plus, you don't have to be a TempoFit member. At every run we have options to complete just 5k all the way up to 30k +.
Our TempoFit pace leaders guide groups at the following paces: 4:30, 5, 5:30, 6, 6:30 & 7min/km. So find a group that works for you and enjoy discovering Auckland's best runs with great company.
And we're on rain, hail or shine.
NOTE: All runners run at their own risk and agree not to hold TempoFit or any run leaders responsible for any injury or damages to their person or belongings.

Below are our upcoming runs and follow our Facebook page for details. And here's a full list of our favourite Auckland runs.
WINTER/SPRING 2017
23 July: RUN AUCKLAND – Millwater
This is the finale for the Run Auckland Series so we won't have a social group run. But join us in the race itself!
30 July: Mission Bay – Orakei & Hobson Bay – 17.5k
This classic Mission Bay loop is a must-run for all Aucklanders. We'll start on the flat of Tamaki Drive before completing a loop around both Orakei Basin and then Hobson Bay. There are a couple of hills on both these loops but we finish back on the flats of Tamaki Drive where you can add on distance. Those running shorter can turn back at their desired point.
Meet at 8am at the car park opposite Mission Bay's Berkeley Cinemas.
Distances: 5, 10, 17.5k +
Download the map.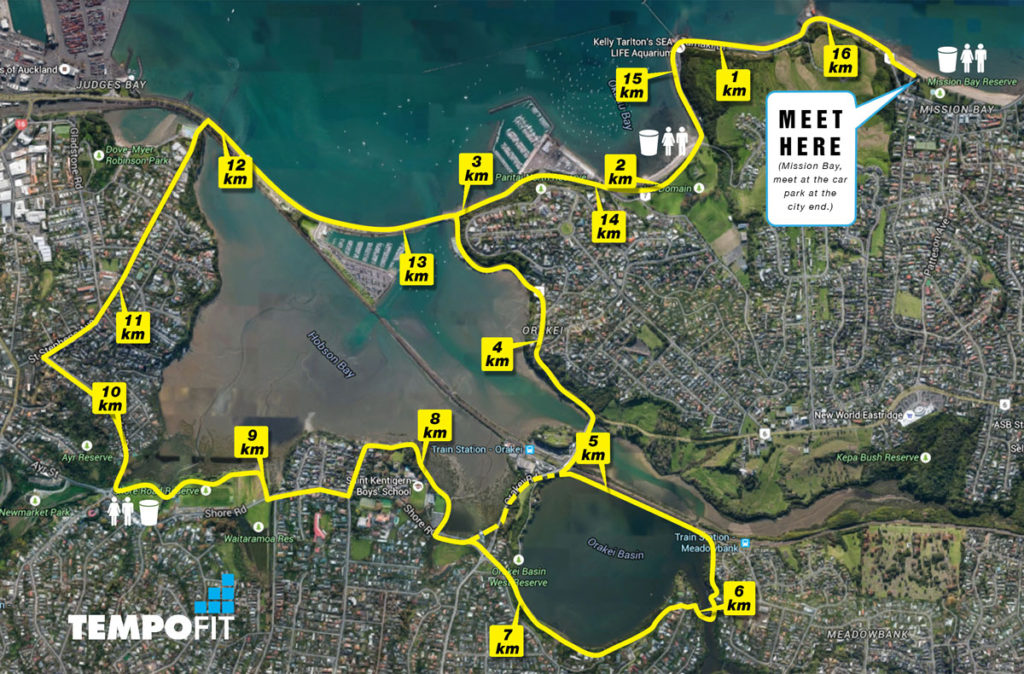 6 August: Auckland City Three Peaks
Today we're conquering Auckland's three central volcanic peaks of Mt Hobson, Mt St John and Mt Eden, before we make our way through the lush trails of Auckland Domain.
Meet at Domain & Ayr Cafe, 492 Parnell Rd. 
Distances: 5k, 10k, 24k +
Map: http://www.mapmyrun.com/routes/view/968286597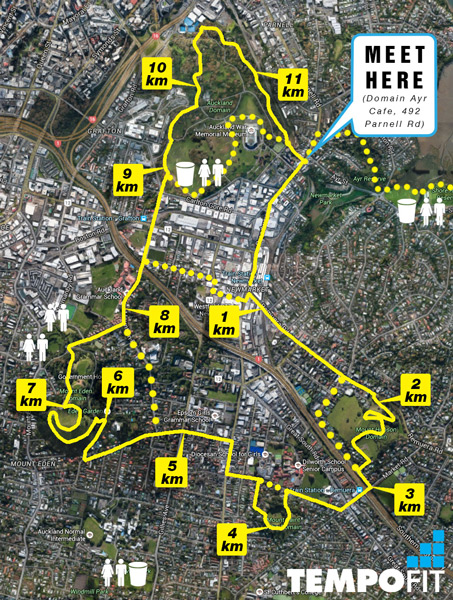 13 August: Totara Park, Manukau
South Auckland's premier destination for running, Totara Park includes beautiful bush, some meaty hills and meandering mountain bike paths that are soft under foot—ideal for a lap or two on this 10k course.
We'll start by heading west to do a partial loop around the lower bush section before following the western border of the park up to the mountain bike paths of:
Hub Connector (Fat Man's Revenge)
Pony Express
Anaconda
Then we do one small loop around the eastern portion of the lower bush to make a total of 10k. Add on by doing another lap … or two!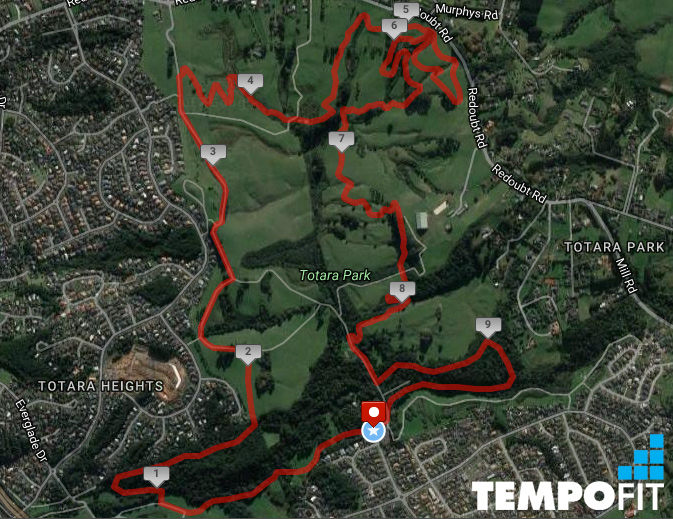 20 August: Bucklands Beach – 10k, 21k, 24k +
Mostly flat and mostly coastal, this run is ideal for clocking up the miles ready for that upcoming marathon, half or ultra. The course is a simple lollipop that follows the Rotary Walkway south to the Panmure Basin where we complete an anti-clockwise loop, before heading home.
To shorten, turn back at any time. To lengthen, there are plenty of options around Musick Point and Bucklands Beach.
Meet: 47 The Parade, Bucklands Beach
Distances: 10, 15, 21, and 24k + options.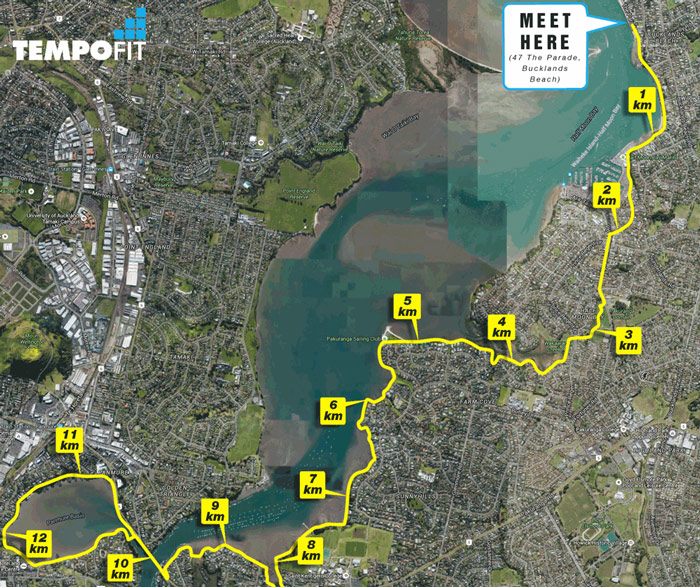 27 August: Takapuna Beach Cafe – 10.5k, 15.5k +
From the cafe we'll first head down the coast along the beach and then jump over to the Greenway and follow it south along the western side of the peninsula to reach Devonport. From here we'll follow the Auckland Marathon course back north to Takapuna.
This full loop is 15.5km but if you'd like to make it 13k, head left via Seabreeze Rd to Narrow Neck Beach (you'll still experience the main two hills of the Takapuna section of the Auckland Marathon course).
To make it 9k, head left along Bayswater Ave to Lake Road.
Meet at Takapuna Beach Cafe (22 The Promenade)
Distances: 10k, 13k, 15.5k or longer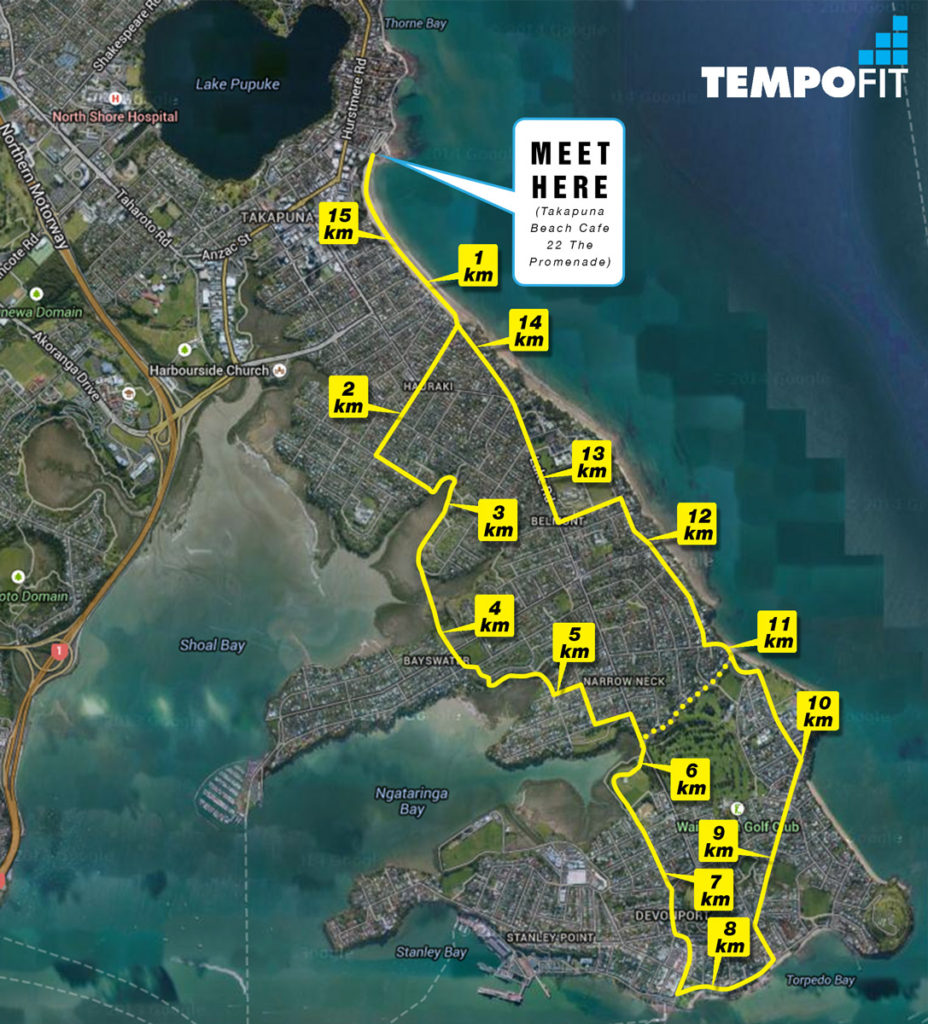 3 September: North Shore Marathon
No TempoFit group run this week. Join us at North Shore Marathon!!
PREVIOUS RUNS
Check out some of our favourite running routes around Auckland here.