By Hayden Shearman // No matter how many FitBits or GPS watches or fancy new running shoes you get this Christmas, the gift of fitness is something that only you can give yourself. So let's get busy preparing for yourself that gift of amazing training and racing in 2017.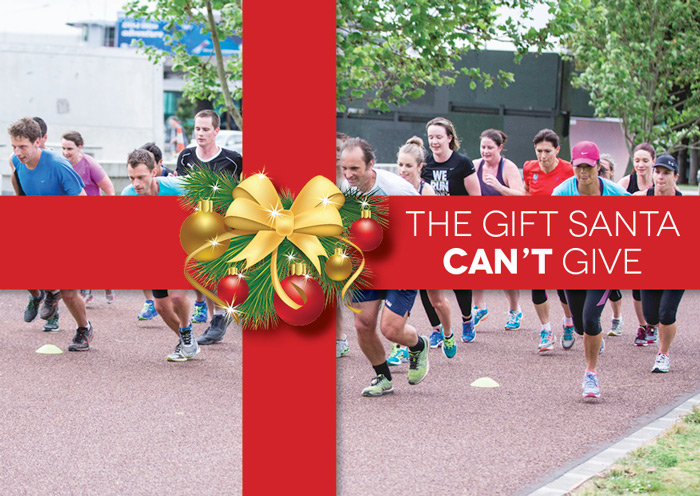 There are no lucky finishers at the end of a marathon; there are only people who have put in the work in training and done it in a smart way that hasn't led to injury.
At the weekend I had the privilege of sitting down with 1960 Olympic bronze medalist (marathon) and NZ running legend Barry Magee for three hours (an extended interview for the Kiwi Running Show podcast). It could have been 33 hours and I still would have had training questions for him. But the comment he parted with was this simple key to success in running: "It's about training, training, training."
So, what exactly does this smart training look like? And how should we package up that gift of running so that, unlike the horrible green and orange cardigan your Aunt Nora knitted you four Christmases ago, you actually use this gift?
So here my top 5 tips for making your running cranking in 2017:
MAKE IT SOCIAL
Success in running is all about consistency over time. In other words you need to be addicted. But how?
Well, take cigarettes. Most people start to smoke because of their social environment. Their work mates or study mates meet up to chat and smoke. You want to chat but also want to fit in so you chat and smoke too.
What if you could find a similar group of friends who, instead of chatting and smoking, chatted and ran? If the chatting is good, you'll soon find yourself addicted to the running. Bingo! Running more cranked up!
MAKE IT SCENIC
In New Zealand we are ridiculously spoilt for beautiful running environments. So, rather than just doing laps around the same old block or pounding the treadmill in the gym, seek out destination runs that can help inspire you to keep going and keep going further and faster.
Here are some of my favourite runs around New Zealand as ideas:
Rangitoto Island
Waihi Beach to Orokawa Bay
Mount Maunganui (around and over)
Rotorua: Blue Lake
Taupo: Spa Park to Huka Falls
Tongariro Crossing
New Plymouth Waterfront Walkway
Te Mata Peak (Hawkes Bay)
Oriental Bay and Mt Vic (Wellington)
Hagley Park (Chch)
Wanaka (basically anywhere!!)
Queenstown lake front
Dunedin's Mt Cargill
This is just a short list … there are thousands more. Go exploring!
MAKE IT MEASURABLE
Good goals always have a means of measuring whether or not you achieved them. And running is perfectly set up for creating goals and measuring your progress towards them.
You might start with a goal of running a certain time in the Lion Foundation Rotorua Marathon but then make smaller stepping stone or process goals that will get you there. I like to have weekly or monthly mileage goals or cross training goals or time trial goals (races over shorter distances) that give me clues on how I'm tracking towards that big goal.
And measure these smaller goals with a running diary, using an app like Strava or MapMyRun, wearing a GPS and heart rate monitor to track speed and heart rate over time, and/or having a local time trial course (e.g. A local trail loop) that you time yourself on once a month.
MAKE IT MANAGEABLE
If we all ran 100 miles a week we would all get super fit (if we didn't break down or get injured first) but this workload is simply not achievable for most with work and family demands. So, instead, take a look at your typical week and ask yourself realistically how much time you could give to running.
A one-hour run every day is just 4% of your time. It's small in the big scheme of things but even this is much more than most people need to commit to. If you can do one long run each week and 2-4 other runs of no more than an hour long, you will be well on the way to transforming your running.
How ever much time you commit to, make it manageable in order to fit around the craziness of life that inevitably comes your way right when you're supposed to be in full mileage mode.
DO IT AS A TEAM
I can't stress how important it is to have your whole family, friends and work mates onboard with your fitness goals.
Arrange time with your partner to share parenting duties at the weekend and mornings or evenings, let your friends know that Friday nights need to be earlier bed times for training on Saturday mornings, and even chat to your boss, they may like the idea of an extended team lunch break once a week to train for Rotorua.
The top athletes in the world gather great teams around them to ensure their success, and if it works for them it will definitely work for us.
Merry Christmas everyone and happy running into 2017!!
This is a series of blogs all about getting you trained up and raring to go for the 2017 Lion Foundation Rotorua Marathon (or half or quarter).
Grab a fully personalised and tailored training plan to take you to your next race.