So, you've signed up to run some or all of the Run Auckland series … but how to train for it? Well, we've come up with the solution: The TempoFit Run Auckland Training Package!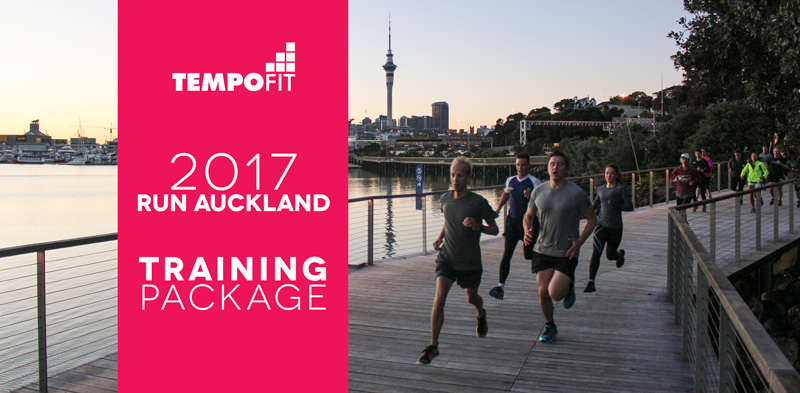 This exciting training package is ideal for 5k, 10k or 10k/half marathon entrants. You'll develop endurance, speed, technique and the tactics to run your best at each Run Auckland event.
The training package includes 15 weeks of:
>> TempoFit Membership (valid from the date you sign up i.e. beyond the end of the Run Auckland series if you sign up late)
>> Group workouts in St Heliers, Auckland Domain and Westhaven (click here for timetable)
>> Training plan geared to nail each of the Run Auckland events*
>> TempoFit race tee/singlet
>> Online workouts for core, stretching, injury prevention and foam rolling
>> Weekly motivational emails
>> Fitness tests over 5k and 3k to get the speed in your legs ready for Run Auckland
>> Membership to our private Facebook community to chat, connect and stay inspired
* Your training plan will be a generic plan that includes clear instructions on how to tailor it to your own training needs. 
All this for only $20 per week (billed every three weeks).
Joining takes only a couple of minutes, hit the button below. By clicking the button below you agree to the terms and conditions listed below and agree to have your credit card charged every three weeks (for five payments total = 15 weeks).
Can't make group workouts? Online training could be just for you. And it's only $10 per week! Learn more >>
Ts & Cs
Run at Your Own Risk: By signing up to TempoFit you agree to participate at your own risk and agree to not hold TempoFit, its staff or volunteers liable for any damage, loss or injury to your person or belongings. You understand the risks of vigorous exercise and have permission from your doctor or other medical professional to participate in TempoFit.
Money-Back Guarantee: We are always wanting to improve TempoFit and provide an epic running experience, so if you're not happy with your experience, please let us know and we can arrange a refund (see below). But we also provide a week's free trial so you can try it out before committing. Any questions/concerns, please email us.
Pre-Paid Memberships: All memberships are pre-paid so there are no refunds, with a handful of key exceptions below.
Injury: One of the missions of TempoFit is to help you enjoy running injury free. And if you do get injured, we are here to help you through it. The online workouts, tailored training plan and some group workouts will help you to stay engaged and motivated throughout your recovery. If you need to cancel your membership (see "Refunds" below).
Illness: We have a refund policy for long term illnesses (see "Refunds" below), but we're here to help you return to running after those winter colds and flus.
Holidays: Our weekly emails and your training plans detail the running you'll be doing each week, so you can replicate TempoFit group workouts wherever you are in the world.
Life Changes: There are many things in life that mean we have to change our fitness regimes (e.g. moving cities, changing jobs, starting a family) in these cases we do make allowance for refunds (see "Refunds" below).
Refunds: In the case of long term injuries or illnesses or if you're moving away or having a major lifestyle change (i.e. there's a little bun in the oven), we are more than happy to partially refund your pre-paid purchase. For the Run Auckland Training Package we do not refund any pre-paid memberships as it is only paid three weeks in advance. If a payment has occurred after you had intended to stop your membership, please contact us and we will refund that single payment.