By Hayden Shearman // The success of yesterday's North Shore Marathon all hinged on a small stretch of pavement in the centre of Takapuna: the 35th kilometre of the marathon. It's the one I failed to complete in the Queenstown Marathon after rupturing my left achilles two years ago. So today was all about righting the wrongs and getting through that KM in one piece, then enjoying the final 7.2k as much as humanly possible.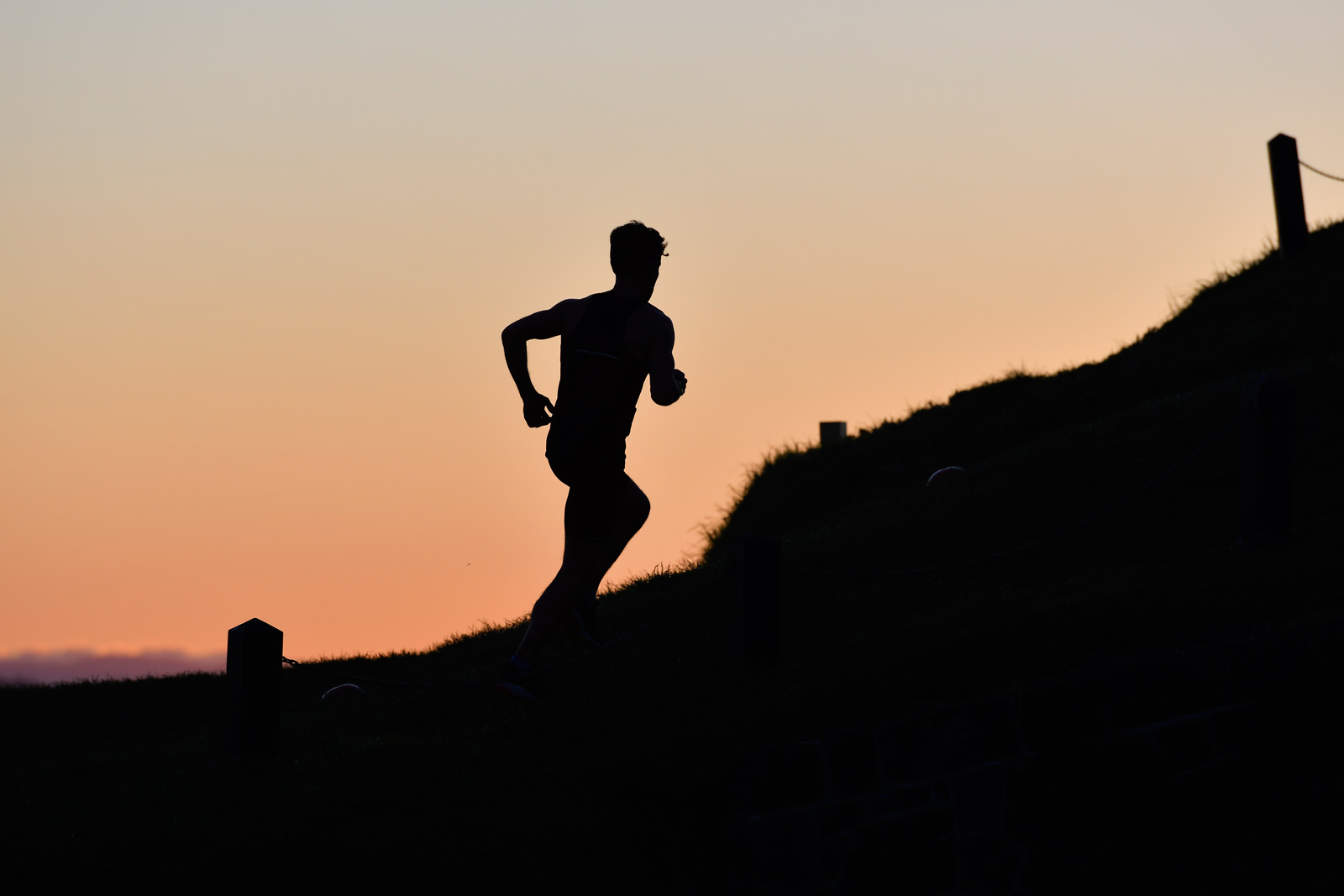 But anyone who has attempted a long run on the Shore will understand that 42.2km over it's undulations and soft sandy beaches isn't exactly a walk in the park. And two years away from the marathon meant I had forgotten about the taper doldrums that are full of niggles (my right hip flexor had been giving me grief) and viruses (I can't tell you how many people I've met in the last week who had just recovered from colds and sinus infections). So, me running on past the 36k mark definitely wasn't a sure thing.
Thankfully, constant vitamin C popping last week kept the colds and flus at bay, but the hip niggles and the terrain remained as the big question marks over my North Shore Marathon.
Weather wasn't a factor either. The day started cold but perfectly clear and still. Really couldn't have been better aside from the temperatures getting up mid-morning for those in the half and in the 4-hours-plus category in the marathon.
The North Shore Marathon is one of those community orientated events that are free of a lot of the hassles that dominate the pre-race madness of big city marathons. I arrived early to secure a park, but needn't have bothered, there were LOADS of free parks within 200m of the start/finish area. Ideal. Same thing with the toilets. No queues for the nervous poos. Perfect.
The ease of parking also meant I didn't need another layer of clothing over my singlet. I just hung out in the warmth of the car till T-minus-5 and then wandered down to the start line.
With nothing but the walks to the portaloos and the start line to warm me up, the hooter went and adrenaline surged me straight to the lead and straight into a steady, but not crazy 3:50min/km.
The first KM is entirely on the sand of Takapuna Beach (the tide was low so the sand near the water was firm packed and also allowed us to run the tangent for the shortest distance down the curve of the beach). Then it was up our first hill (of 6 major climbs per lap). The undulating nature of the course basically doesn't ease up until you're 14k in to each of the two laps, unless you're running on the sand of Takapuna and Cheltenham Beaches. So it makes it challenging to find your rhythm and to know exactly how hard you're going. I wanted to be very careful that I didn't go out too hard today but at the same time I had a sneaky little time goal I had my eye on.
The course record for the North Shore Marathon is 2:50:22 set by Gene Rand in 2015. It was too tempting a target for me. In the weeks leading up to race day, I shifted from just a complete-the-thing approach to a complete-the-thing-in-a-course-record approach. It meant running about 15-20 seconds faster per KM than I would have if I took it a gentler pace (not that there is ever anything gentle about completing a marathon!) and my training had suggested this should be within reach, assuming no mind- or achilles-explosions.
Sub 2hours 50seconds would require an average pace of 4:02min/km, but how much time would I loose on the hills? I make it that the course has about 410m of climbing in the marathon which I assumed would knock me back about 8 minutes. So I'd need to average a 3:50min/km effort level (2:42 total time on a flat course) to get the record and all that assuming my GPS watch was measuring my splits accurately (watches are notorious for not dealing well with zigzags, tight corners and hairpin turns—all of which there are many on the North Shore Marathon course).
So the first lap (21k) I was kinda flying blind with only clues as to how on track I was for the CR. On the flats I was holding around 3:50min/km with big variations up and down with the hills. So in theory I was on pace but also feeling I was working harder than I would have liked for my initial just-complete-the-thing strategy. I knew the lungs and energy levels would hold out but I wasn't so confident for the legs, especially the right hip flexor which had already sent me some nasty pangs.
I had held the lead from the gun but at a hairpin turn at 18k I realised Doug Watson (one of our TempoFit crew) was just 45secs back. I may have some company for the second half after all. But the other thing that was great about the company was the out-and-back nature of the northern end of the course meant we passed by all the other marathoners heading in the opposite direction. They gave me plenty of high fives and cheers which made the running so much more enjoyable given races like these don't exactly draw massive crowds in New Zealand.
So at halfway, back down on to the sand of Takapuna Beach, I came through in 1:22:40*. Well under the halfway target of sub 1:25. This meant I could run five minutes slower for the second half and still nab the CR. In an effort not to totally destroy my body for upcoming races I chose to make the most of every one of those five minutes.
* At the halfway point my GPS was reading just 20.7km—either a consequence of the GPS not handling the cornering and zigzagging or the course being a tad short (probably a combo of both).
The first thing to get given some extra time as a result of this quicker first half was a slackening off of the flat speed to hold 4:00min/km and then also some walking drink stations to ensure I didn't dehydrate (I have a pretty high sweat rate and don't race well in the heat—although I love training it—so wanted to well and truly cover off this base). The final thing to get given some seconds was a couple of quick walks up the hills of North Head just to make extra sure my calves and achilles would stay happy (so far so good!).
So with a slightly more gentle approach, the KMs ticked by and all of a sudden I found myself at 35k with a bunch of TempoFit-ers cheering me on. I scanned my body for any signs of a tendon about to pop or a muscle to cramp, but all was well aside from the usual I've-just-run-35k-tired-legs.
So goal number one achieved. Now to finish and to do so in a time starting with 2:4… .
With 6k to go I had 25 minutes to spare to get me in under 2:50. It meant averaging 4:12min/km [clearly my maths wasn't perfect at this stage in the race] and doing this maths with a foggy mind helped occupy at least the next two KMs and I was pretty sure I could maintain my then current flat speed of 4:05min/km for the remaining 4km. But the heat was starting to get up (not that actual temperatures were that bad but the sun was warm, especially when reflected off the ocean or road) and those tired legs were really tiring. Running downhill at a reasonable speed always smashes my quads and I find this tends to set off the rest of my legs. In particular the hip flexor was getting more and more upset and the hammy had sent me some pre-cramp twangs. Take it easy Hayden.
It's funny the things you say to yourself in those final few KMs of a marathon. "It's just 4km to go. That's barely a warm up." That's the positive voice, but then the negative immediately chirps in: "But when have you run a 4k warm up after having already run 38k over hills?" The end of a marathon is this mental turbulence of confidence and doubt, but the most-important thing is that the feet keep landing in front of each other, which is all I could do—the ability to do mental maths had vanish with solving that 25 divided by 6 equation.
Finally at the 1k-to-go mark I knew I could make it. Confidence silenced doubt and I started the roll down to sea level to finish back on Takapuna Beach. I was full of gratitude during this final KM for health and recovery from a pretty nasty injury, for stunning weather, for an incredibly supportive wife, and for living in such a drop-dead ridiculously gorgeous country that is safe to race and train.
Back at the start/finish line it was great to have the support of a bunch of TempoFit-ers and one runner in particular that I coach who, despite incredible dedication to injury prevention, has just been forced onto the sidelines for another unknown length of time due to injury. She was supposed to be there on the course winning the women's marathon, but as I was experiencing a major running high in claiming my first ever marathon win, she was experiencing the low of watching from the sidelines after returning from yet another aqua jog session. Running can be cruel and kind all at the same time.
So up the short hill and over the finish line I went, crossing in a new course record of 2:48:41. Nailed it. Achilles still intact. Hip flexor unhappy but no toys thrown. So stoked!
A massive thanks to Dion and the team at North Shore Marathon for having me. And huge props to our incredible TempoFit pacers who guided people around the half marathon: Jim Waite, Allan Janes, Brigid Du Burgess, Michael Jenkinson, Stephen Campbell, Gareth Evans!