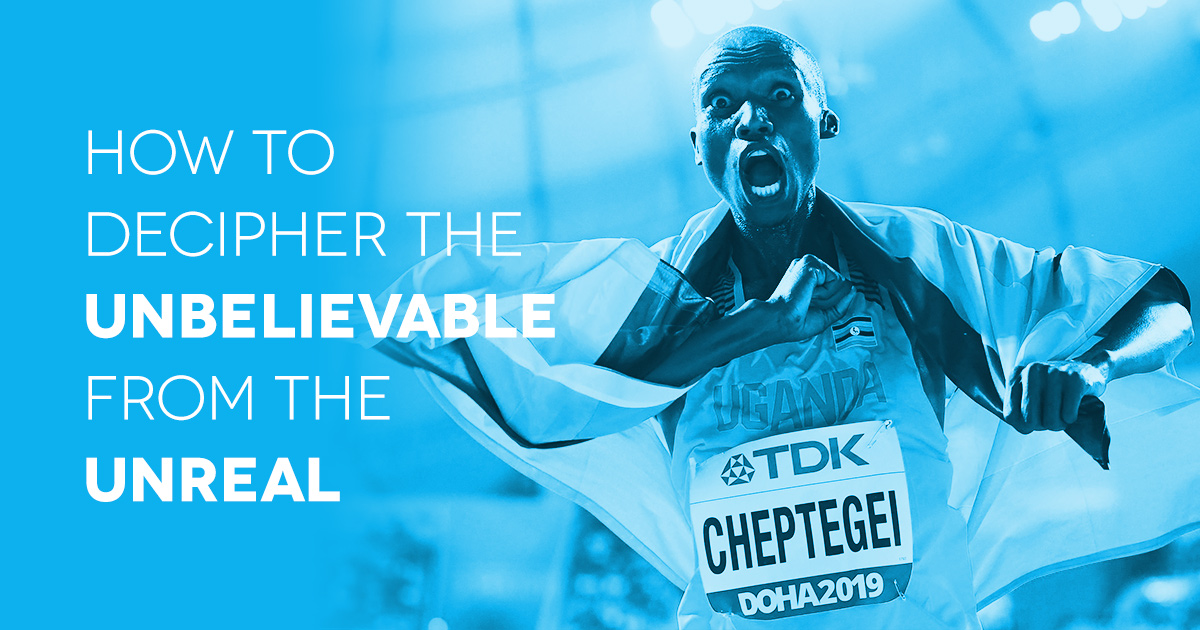 By Hayden Shearman
Last weekend, in Monaco, the men's 5000m world record was broken by Joshua Cheptegei of Uganda in running a mind-exploding 12:35! However, within hours, the inevitable rhetoric came out online that it could be doping or that it was the shoes.
As fans of athletics, it can be tricky to decipher the amazing-but-real from the unbelievable-but-unreal performances. But here are two things that I look for to help bring some clarity to these often murky waters: 1) Consistency over time, and 2) The right raw ingredients.
1. Consistency Over Time
Does a runner's career trajectory logically lead to gold medals or world records? Take Usain Bolt as an example. At age 15 he won the 200m at the World Junior Champs (the youngest ever at the time to win a junior title), so it made sense to see him do BIG things six years later at the Beijing Olympics.
Cheptegei is very much the same. In 2014, he too won a World Junior title (in the 10,000m) and went on to claim double golds in the Commonwealth Games in 2018 (5k and 10k). Last year he won the World Cross title and the 10,000m world champs and chalked up a bunch of world records on the roads. So, he is THE MAN of the moment in the 5000m and 10,000m. And has looked on track to become the next great track distance runner for at least 18 months.
2. The Right Raw Ingredients
The rule of thumb amongst sprinters has always been that you can't be too tall, as those longer leavers (a.k.a. legs) will require too much fast twitch muscle fibres to get them moving quickly. But this is where someone like Bolt, who stands 6'5", bucks that trend by genetically being gifted with sufficient fast twitch to drive those longer legs—all meaning that he can combine a fast stride rate with his long stride to make a one-in-seven-billion, super-fast sprinter. So, does Cheptegei have the raw ingredients to make him our fastest ever 5k runner?
Comparing him to the previous world record holder Kenenisa Bekele is probably the best way to do this.
They're very similar heights and both raised in high-altitude East Africa, so that's a good start as far as the physics and physiology are concerned. But it's Cheptegei's absolute dominance in the 5k/10k as well as cross country that makes you sit up and draw some close comparisons between the two.
But why does cross country come into it? Let me explain.
Not to over-simplify things too much, but I like to view most distance runners as fitting into three groups: those gifted with speed, with strength or with endurance. The speed-based runners perform brilliantly in the 800 and can become top level milers and even championship 5k runners. Mo Farah was a runner like this. Blistering top end pace that made him very competitive in the 1500 and gave him an almost unbeatable kick in the 5 and 10k events. But Mo never claimed any world records over those distances because I think he doesn't have that "strength" characteristic to the degree of a Bekele or a Cheptegei.
Then there are the endurance runners. They get better as the race gets longer. These runners are brilliant in the marathon and ultras.
Despite Bekele now becoming the number two marathon runner ever, I see him more of a strength runner, somewhere between speed and endurance. This group is hard to define and the best I can do is say they are extremely gifted at handling intensity. They can put themselves in a world of pain for 10 to 30 minutes like no one else on the planet. And they have incredible oxygen processing capacity for flushing out that fatigue while running.
What this capacity for intensity and oxygen processing means is that strength-based runners perform very well in cross country races (which break up the rhythm of the speed-based runners and aren't long enough for the endurance types) and they also perform well in honest paced 5k and 10k races. They tend to be vulnerable in sit and kick type races, but they're the ones you'd bank on to claim national and world records in the 5k and 10k. From my point of view, just like Bekele, strength is the raw ingredient that Cheptegei seems to have by the bucket load and why it's not surprising to see him leading the world.
So, that's the sort of reasoning I go through in order to process unbelievably fast performances from elite runners. I hope it helps you to continue to be a fan of this sport and to offer props to those hard working men and women who do achieve phenomenal things and do so clean.