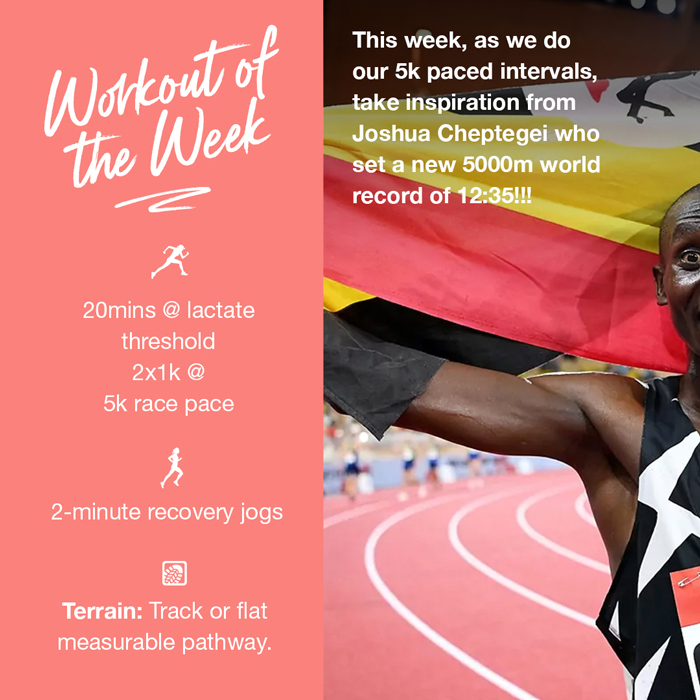 This week it's a mixture of grind and puff by starting with a tempo run and then winding up the pace with some 5k race paced intervals.
WHAT?
20mins @ lactate threshold pace
2x1k @ your 5k race pace
Recovery: 2mins easy recovery jogs
Terrain: Track or flat, measurable pathway.
Feels: Grind and Puff.
This workout starts with the grind of the tempo run—be sure to combat it with even splits and finding your rhythm early with good technique. Then we ramp up the intensity and demand more puff from the lungs while on tired legs. Be sure to stay calm in these 1k reps, aiming for even splits again.
WHY?
Once again with the tempo run we're trying to teach our bodies to ride that storm between comfort and discomfort in order to gradually build our bodies' abilities to fuel with lactate and flush fatigue on the run.
Then, with this fatigue in your legs, can you switch up the intensity? Can your lungs handle the oxygen necessary to not only process the building fatigue but also power you along at 5k pace?
HOW?
Pacing is key with this session. You want to find that rhythm early in your tempo run and then avoid the temptation to get out too fast in those 1k reps.
Stay calm in those 5k-paced intervals, avoiding the temptation to race them. Focus on good technique and staying relaxed despite building intensity and fatigue.
THOUGHT-FOR-THE-WEEK
Following the phenomenal world record in the 5000m set by Joshua Cheptegei, we explore how, as fans of athletics, we can analyse amazing results to decide whether it's true or too good to be true.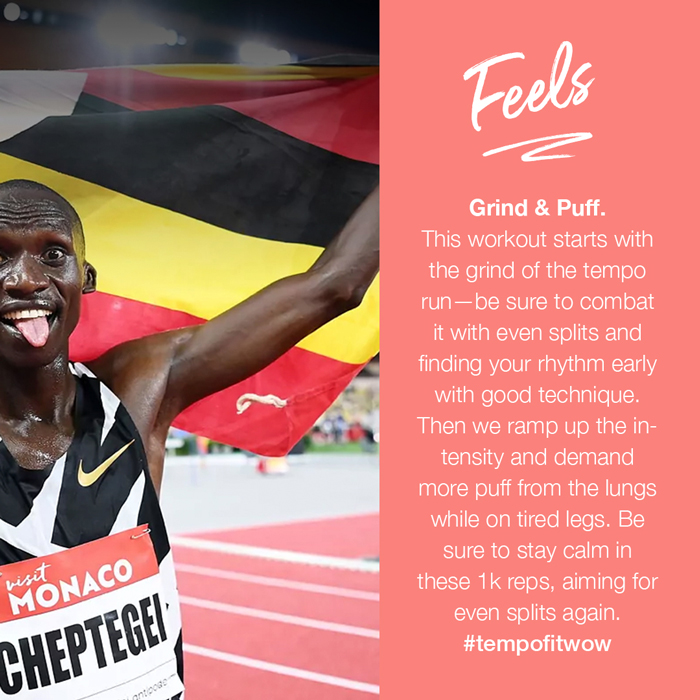 Podcast (workout-of-the-week): Play in new window | Download
Subscribe: Apple Podcasts | RSS | More