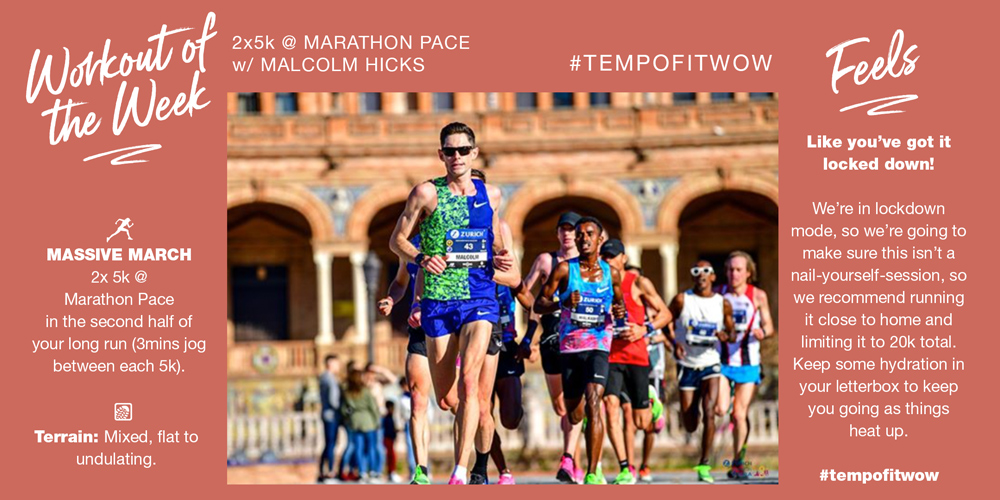 As the world enters global lockdown we're stoked to have NZ's #4 all-time marathoner, Malcolm Hicks, present the finale of our Massive March workouts.
WHAT
2x5k @ marathon pace (3mins jog between)
In the second half of your long run
Terrain: Mixed, with some flat measurable paths (to check pace) and some off-road (to keep it fun).
Feels: Like you've got it locked down.
We're in lockdown mode, so we're going to make sure this isn't a nail-yourself-session, so we recommend running it close to home and limiting it to 20k total. Keep some hydration in your letterbox to keep you going as things heat up.
WHY
Again, like most of our Massive March workouts, this is a time-on-feet session—teaching your body to run at marathon pace when you have tired legs. It also serves as a wonderful clear-your-head workout from all the lockdown craziness going on with Covid-19.
HOW
Be realistic about your marathon pace. Now's not the time to be dropping anything overly epic for your Strava files!
Also, like we did last week, mix today's run up with some flat sections to check your pace and some mixed-terrain sections to keep it fun.
Use the TempoFit.org calculator to work out your paces.
GET-TO-KNOW:
MALCOLM HICKS
Malcolm is New Zealand's #4 all-time marathoner after recently running 2:10:05 at the Seville Marathon (one of the final races not to be affected by Covid-19 cancellations).
This fantastic time qualified Malcolm for the 2020 Tokyo Olympics, which has since been postponed to 2021. This will be his first Olympics after getting the call up to represent the black singlet for the first time last year at the Doha World Athletics Champs where he came 27thin the marathon—which was run at midnight to avoid the crushing desert heat.
In the podcast, Malcolm breaks down how he ran all these incredible marathons and shares tips on how to nail your next marathon (whenever that might be!) and how to train sensibly during the Covid craziness.
Malcolm on Instagram: https://www.instagram.com/hicks_m/
Got a training question? Email me!
Podcast (workout-of-the-week): Play in new window | Download
Subscribe: Apple Podcasts | RSS | More