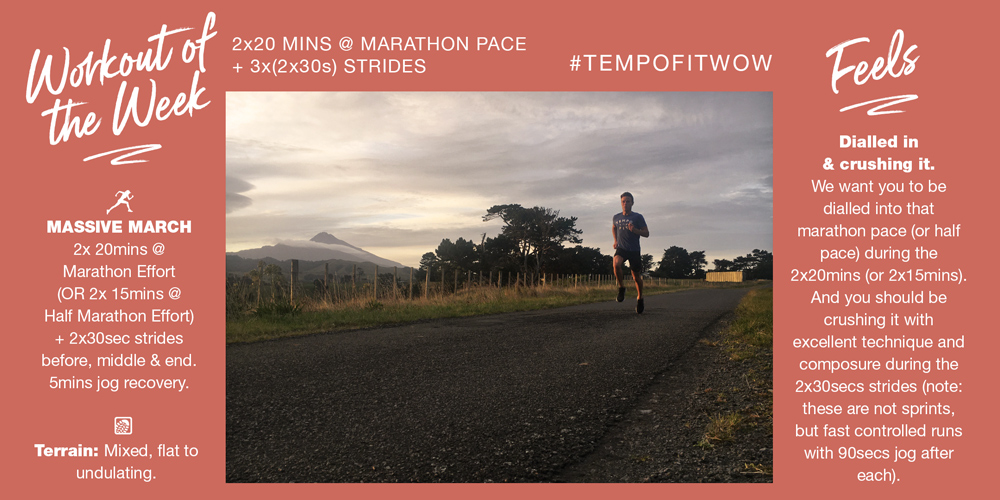 In the midst of global craziness, races being cancelled and social distancing, we are still crushing out Massive March workouts. And this is a goodie …
WHAT
2x20mins @ marathon pace (5mins jog between)
(OR 2x 15mins @ half marathon).
With 2x30secs at the beginning, middle and end
Terrain: Mixed, with some flat measurable paths (to check pace) and some off-road (to keep it fun).
Feels: Dialled in and crushing it.
We want you to be dialled into that marathon pace (or half pace) during the 2x20mins (or 2x15mins). And you should be crushing it with excellent technique and composure during the 2x30secs strides.
Remember, the strides aren't sprints, but fast, controlled bursts of faster running (about what you could hold for 5mins flat out).
WHY
Firstly, time on feet—it's the ultimate prep for any full or half marathon.
Secondly, to practice your target race pace so your body is efficient at the speed and you know how to lock straight into it.
Finally, to teach your body to run with great form, power and speed with those strides, even at the end of what is a pretty long workout.
HOW
This week I'd like you to mix up the terrain so that you have some flat, measurable pathway sections in order to check your pace and effort levels. But also to have some off-road and trails in order to have some fun and release some Covid-19 stress.
Use the TempoFit.org calculator to work out your paces.
THOUGHT FOR THE WEEK:
TIPS FOR RUNNERS DURING COVID-19
Stay Active: In times when we are told to stay in doors and we're losing that social accountability to exercise with others, now is the time to make a concerted effort to keep your body moving. Your mental and physical health needs it!
Create Challenges for Yourself: Most races are cancelled, but this doesn't mean you can't still have some goals that provide structure to your training. These goals might not be running a certain time for a virtual half or full marathon, as these can be tricky on your own, but they could be more focused on processes—like doing a workout or run every single day, or building up to your longest run ever, or getting more consistent with your Workout of the Weeks!
Stay Connected: Two of the big spin-off risks of social distancing are inactivity (mentioned above) and loneliness. So, please make a special effort to reach out to your fellow runners online and post up your workout photos to inspire others. We're all in this together even though physical distance separates us!
Got a training question? Email me!
Podcast (workout-of-the-week): Play in new window | Download
Subscribe: Apple Podcasts | RSS | More