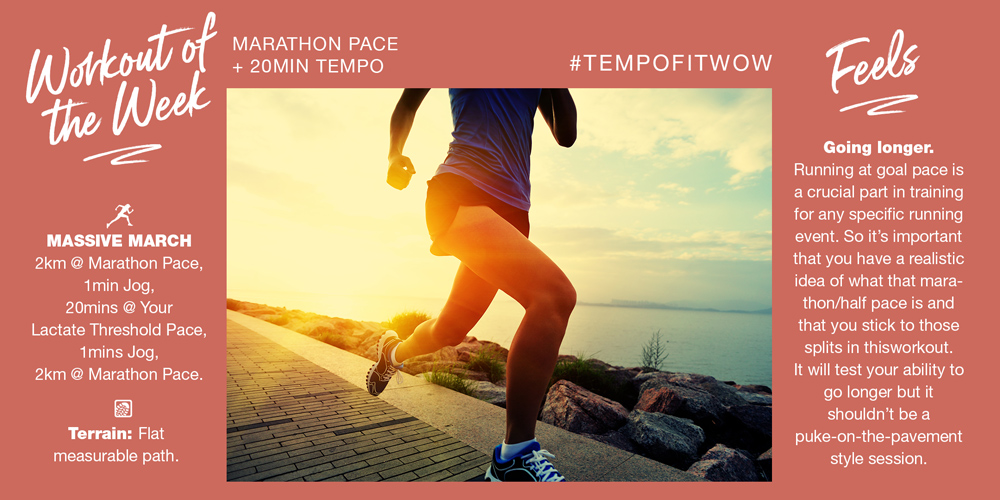 This March we are getting massive with some marathon-style workouts. This week's workout is another step in that direction by adding in 2x2km at your marathon goal pace, with a sneaky 20-minute tempo run thrown in the middle.
WHAT
2km @ marathon pace (or half marathon),
1min jog
20mins @ your lactate threshold (or 1-hour race pace)
1min jog,
2km @ marathon pace (or half marathon).
Terrain: Flat measurable path.
Feels: Going longer.
Running at goal pace is a crucial part in training for any specific running event. So it's important that you have a realistic idea of what that marathon/half pace is and that you stick to those splits in the workout.
This workout tests your ability to go longer but it shouldn't be a puke-on-the-pavement style session.
WHY
Familiarising yourself of goal pace is important because it teaches the body to run efficiently and strongly at this pace. It also locks in the muscle memory of the pace so that you can pace yourself well on race day.
HOW
There are two key tweaks you can make to this week's workout:
Half Marathon Pace: If your key race coming up is a half marathon, feel free to change 2k at marathon pace sections to half marathon pace.
Limit the 2k Efforts to 10 Minutes: If your marathon or half pace is much beyond 5min/km, I'd like you to limit the two 2k efforts to just 10 minutes. E.g. if your pace is 6min/km you could either just do 10 minutes or even just 1k at this pace.
Use the TempoFit.org calculator to work out your paces.
THOUGHT FOR THE WEEK:
HOW TO SET A MARATHON GOAL TIME
There's no more important thing you can do on race day than to pace yourself in the first 15k of the marathon. So, having a clear idea of that pace and practicing it well beforehand is a great idea!
Here are the three keys (aside from individual dynamics like weather on the day, the course, your own health etc) for estimating your marathon time:
What Do Your Other Races Suggest? A 5k or 10k race result are brilliant for plugging into a calculator and projecting your marathon time. However, these calculators assume you've been training specifically for that marathon as much as you trained specifically for the 5k or 10k. And that's where the next two points come in.
How Much Mileage Have You Done? Think about the last three months, have you hit the long runs you intended to in your marathon training plan? What about your overall mileage in that period? And what about your background as an athlete? Do you have years of endurance training to draw on? Or are you new to endurance sport and just building your body's ability to go long? For most, by answering these questions we can add 10-15 minutes to their projected marathon time.
How Do You Feel On The Long Runs? This subjective understanding on what's going on in your body and mind when you hit the 90-minute mark in a long run is an excellent cue as to whether or not those projections are realistic or not. If you're struggling 2 hours into an easy-paced long run, chances are that your marathon goal time will need to be a little more conservative than what the calculator suggests.
Got a training question? Email me!
Podcast (workout-of-the-week): Play in new window | Download
Subscribe: Apple Podcasts | RSS | More