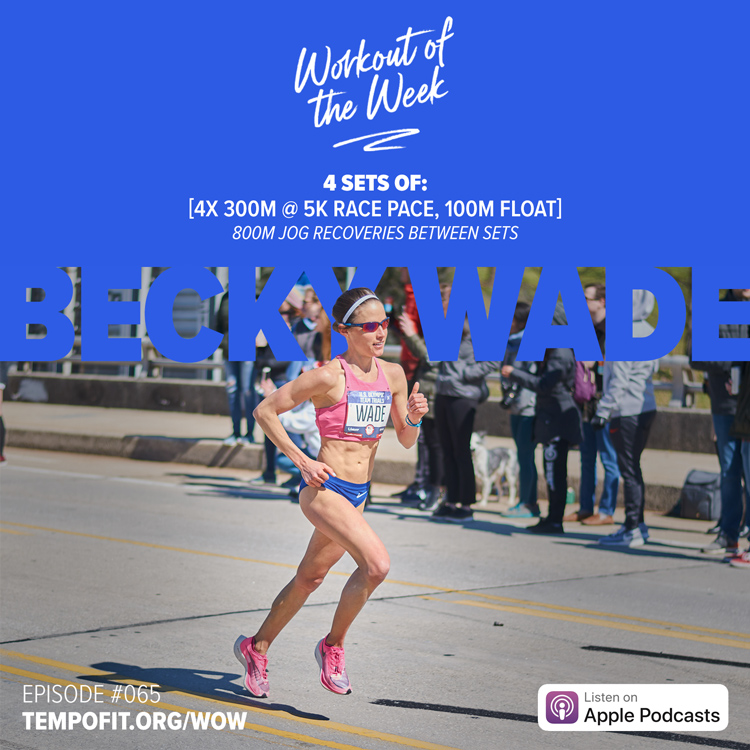 This week we welcome to the show USA-representative and 2:30-marathoner, Becky Wade-Firth as she brings us the first of two workouts that help transition us from a speed-focus to a more endurance-focused workout. 
WHAT?
4 sets of:
[4x 300m @ your 5k race pace
100m jog float]800m jogs between sets
Terrain: Track or measurable pathway.
Feels: Smooth & crunchy
This workout is a little like two types peanut butter spread on what piece of toast. You'll feel smooth beginning these 300s at 5k pace. However, the 100m jog recoveries will start to feel mighty short in the second half of the workout, and this is where things will get a little crunchy.
WHY?
As Becky explains in the podcast, this workout is essentially four 1-mile reps, just with short 100m jog recoveries every lap to break things up.
So, the recovery jogs allow you to stay in control and maintain good technique, whereas the accumulation of 4.8k at 5k race pace will add that endurance factor to the workout that transitions us nicely toward our workout next week.
HOW?
Becky points out that the 1600m split is an interesting one to keep track of during the workout. Because not only do you want to keep those 300s on pace, it's also helpful to see how the 100m recovery jogs are going—whether they're speeding up or slowing down.
Use the lap function on your watch to record your splits for the 300s and 100s, as well as the overall 1600s. This will be good intel ahead of next week's workout.
MEET BECKY WADE-FIRTH
Becky Wade grew up in Dallas, Texas, and now bases herself at Boulder, Colorado, where she trains as one of America's leading half and full marathoners.
Interestingly, she started her running journey at high school as a sprinter, and then transitioned into longer form of the sport in her latter years of school and went to become multiple all-American at Rice University.
After graduating college, she embarked on an epic running adventure, visiting 22 countries around the world that all had a history of running. That year-long, solo adventure lead to her writing a book called Run the World which captures the rich diversity and similarities that exist across running cultures from Japan to Europe, and Ethiopia to New Zealand.
She now writes for Runner's World and keeps a great blog here. She has represented the USA twice and was supposed to put on the stars and stripes again in 2020 at the World Half Marathon Champs but USA ended up not sending a team due to Covid-19.
Becky Wade's PRs (a.k.a. PBs) as at Dec 2020:
10k = 32:32
Half Marathon = 1:09:40
Marathon = 2:30:41
Podcast (workout-of-the-week): Play in new window | Download
Subscribe: Apple Podcasts | RSS | More