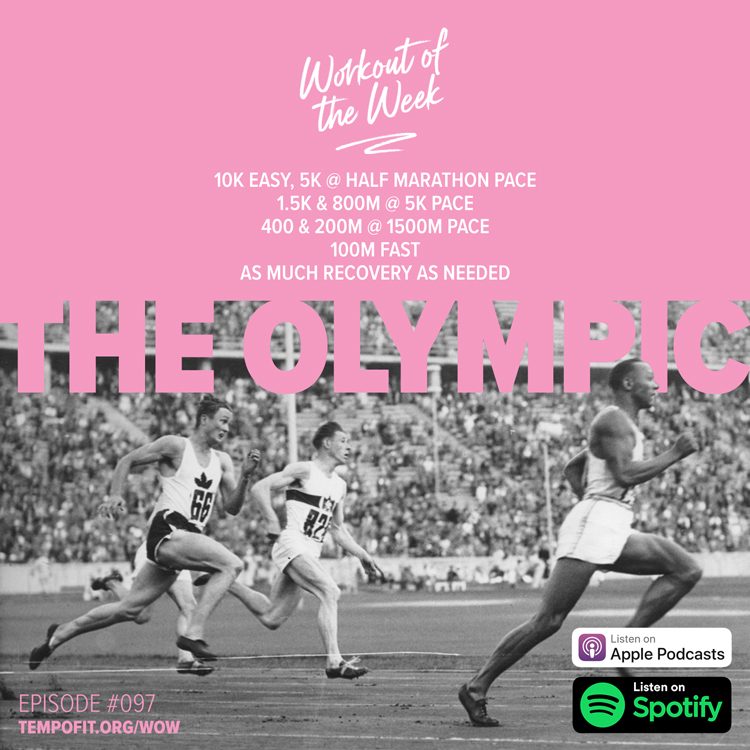 Feeling the Olympic vibes?!! This workout will definitely get you in the zone for the Games as you run every distance track race!
WHAT?
THE OLYMPIC
10k easy, 5k @ half marathon pace
1.5k & 800m @ 5k pace
400 & 200m @ 1500m pace
100m fast
As much recovery as needed
Terrain: Measurable pathway.
Feel the Olympic spirit by running every distance on the track (except the hurdles and steeples) in one epic workout.
This is a LONG workout! You're looking at 21k or more once you add in the recovery jogs and warm down. So, most people will want to treat it as their long run for the week.
WHY?
Why? Because the Olympics are awesome and this is a great chance to be part of the action and just quietly compare your own splits to the winning times (note: this is always a frightening comparison!!).
But the session also helps build endurance and tests out that endurance at the end with your ability to turn it on when you're tired.
HOW?
The recovery jogs can be as long or short as you like. Longer recoveries will help you feel fresher for each rep, but they will also make the overall length of the session longer, so it may well do the opposite towards the end!
So, do the recoveries by feel and perhaps you just walk them in the final few reps when you're moving fast.
Podcast (workout-of-the-week): Play in new window | Download
Subscribe: Apple Podcasts | RSS | More