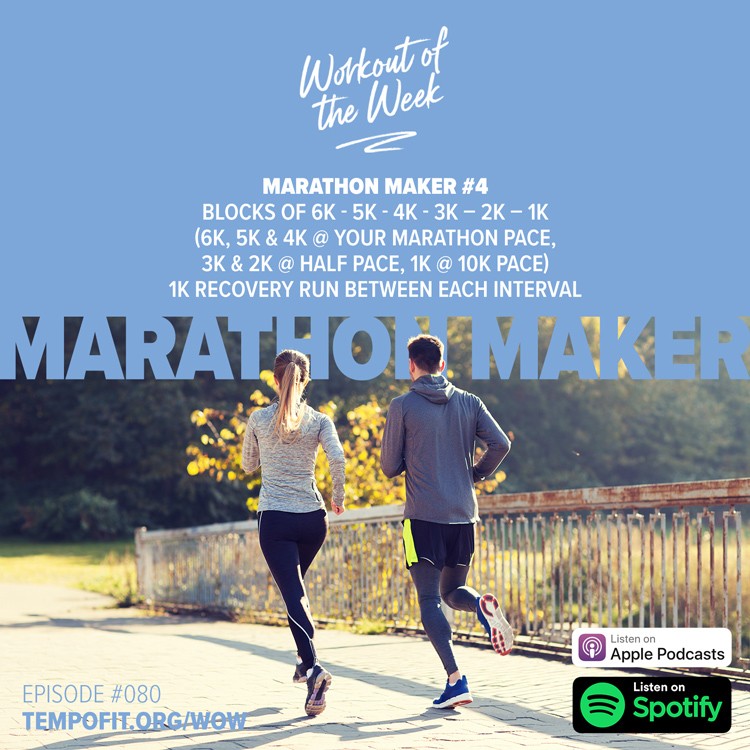 This is the big epic workout of our Marathon Maker Series. It's not one to be taken lightly. You'll want to treat it as both your long run and your key session of the week—so much so that you'll even taper for a few days before the workout and have a good week of recovery style running afterwards.
What?
Marathon Maker #4
6k – 5k – 4k – 3k – 2k – 1k (6k, 5k & 4k @ your marathon pace, 3k & 2k @ your half marathon pace, 1k @ 10k pace)
1k recovery run between each interval
Terrain: Flat, measurable pathway.
Why?
Simply because humans are crazy! We hunt after the more artificial challenges in life like running marathons or ultras or personal best times because they give us the courage and life strategies for tackling the real world challenges we face.
This sort of workout is that perfect challenge of your endurance and pacing and mental fortitude that prepares you brilliantly for a marathon, half or ultra—and for tackling the marathon of life!
How?
With 30k or more worth of running in this session, this will be your long run for the week. So avoid the temptation to just do this on your normal workout schedule, but instead swap out the LSD run for this key endurance session.
The fatigue on your legs will be similar to what you'd experience from a 10 or 15k road race, so treat the recovery similar. For every mile you race, allow a day of recovery/easy running. So, at minimum, you'll want six days after this session before doing another challenging run.
Thought for the Week:
3 Lessons from the New Zealand Track & Field Champs
A week or so ago I had the privilege of commentating the New Zealand Track & Field Champs. This was two days of epic racing and truly incredible performances. So, here are my top three takeaways that we can all apply to our fitness journeys from the weekend's action:
A win doesn't need to be gold.The women's sprints in New Zealand are electric right now with a big group of young ladies all battling it out for top three status. One of those ladies, Symone Tafunai, came through to win her first senior women's 100m medal. It was a bronze medal but the emotion and joy she showed was truly amazing when she realised she had claimed that third spot. You could see how much it meant to her and how big a reward it was for all the hard work in training she had put in. And for each of us, our fitness journeys don't need to be defined by winning or gold medals or comparing ourselves to others; a win for you might mean a slight PB or running consistently for several weeks in a row or getting top three in our age group at parkrun. Those wins are important, they need to be celebrated.
Be patient.Winning that women's 100m race was the queen of NZ sprinting Zoe Hobbs who all season long has been painfully close to breaking the New Zealand 100m record. After a long season of frustrating, but still very impressive performances, she finally ticked off that big goal in the final 100m of her season. Not only did she claim the 100m title, she also equalled the New Zealand 100m record and finally has her name up there as the fastest woman in the country. It's a great reminder to us that although our fitness and training might be totally dialled in, sometimes those performances just don't click together when we want them. But patience is the key, trust the training, stick to your processes and that big performance will arrive.
Running rewards consistency.Shay Veich is one of my favourite up and coming athletes here in New Zealand. Every time he races he lays it all on the line and leaves everything out there on the track (sometimes even his skin as he slides over the finish line in a dive of despair). After several years of plugging away finding his most suited event, this weekend turned out to be truly magical. His main event for the weekend was the senior men's long jump, which he won convincingly. But then within just two hours he was back in the spotlight in the senior men's 100m final. Although the top three kiwis were absent from this final (due to injuries and travel commitments) Shay still was just an outside chance at a medal. But with the freedom of having claimed his first senior title in the long jump, he just got out of the blocks like a kid at Christmas and stormed away with a huge win and what would have been a massive PB and super competitive time of 10.34 (but for the 3.4+ m/s tail wind which makes the time ineligible for personal bests and records). It was just such a cool feel-good story seeing him claim this double, especially after last year seeing his 400m national title slip from his grasp as he collapsed metres from the finish to slide across the line in second place.
Podcast (workout-of-the-week): Play in new window | Download
Subscribe: Apple Podcasts | RSS | More