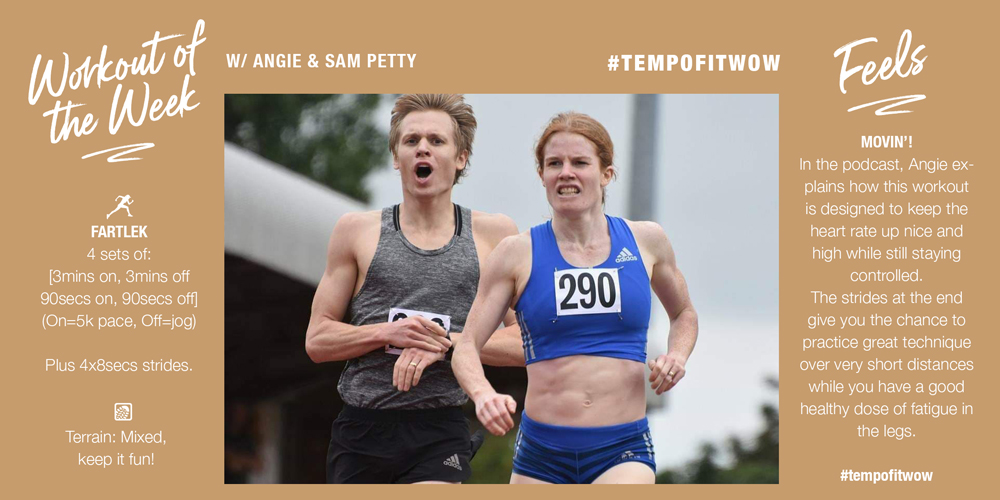 This week we have a great fartlek session presented by speedy couple Angie and Sam Petty.
WHAT
4 sets of (3mins on, 3mins off, 90secs on, 90secs off)
Plus: 4x8secs strides to finish
On: 5k pace
Off: Easy jog
Feels: Movin'!
In the podcast, Angie explains how this workout is designed to keep the heart rate up nice and high while still staying controlled.
The strides at the end give you the chance to practice great technique over very short distances while you have a good healthy dose of fatigue in the legs.
WHY
Your heart rate will approach its max beats per minute in this workout, and the purpose of this is to really train that upper end aerobic engine. We spend plenty of time as distance runners training the general aerobic system with easy-paced conversational running, but this allows us to translate that diesel engine into more of a race car.
So think of this one like taking your Ferrari out for a spin around the neighbourhood!
HOW
Angie and Sam emphasise the need to be well warmed up for this one with some drills that open up the hips in particular and generally just wake your body up.
In the workout itself, be sure to never go too fast that you start running ragged and losing that good control and technique.
GET-TO-KNOW
ANGIE & SAM PETTY
Angie Petty is an Olympian from 2016 and her other key career highlights include multiple NZ titles in the 1500 and 800 and a gold medal in the 800m at the 2015 World Unversity Games.
Personal Bests:
800m = 1:59.06
1500m = 4:07.83
Angie on Instagram: https://www.instagram.com/angie_run800m/ 
Stay Fit with the Smits: https://www.stayfitwiththesmits.com/
Sam Petty has claimed multiple New Zealand championships medals since becoming a permanent Kiwi. His background is both as an 800/1500 runner and also top level traithlete.
Personal Bests:
800m = 1:49.06
1500m = 3:49.37
Mile = 4:01.47
Sam on Instagram: https://www.instagram.com/sam_tri_run/
Podcast (workout-of-the-week): Play in new window | Download
Subscribe: Apple Podcasts | RSS | More