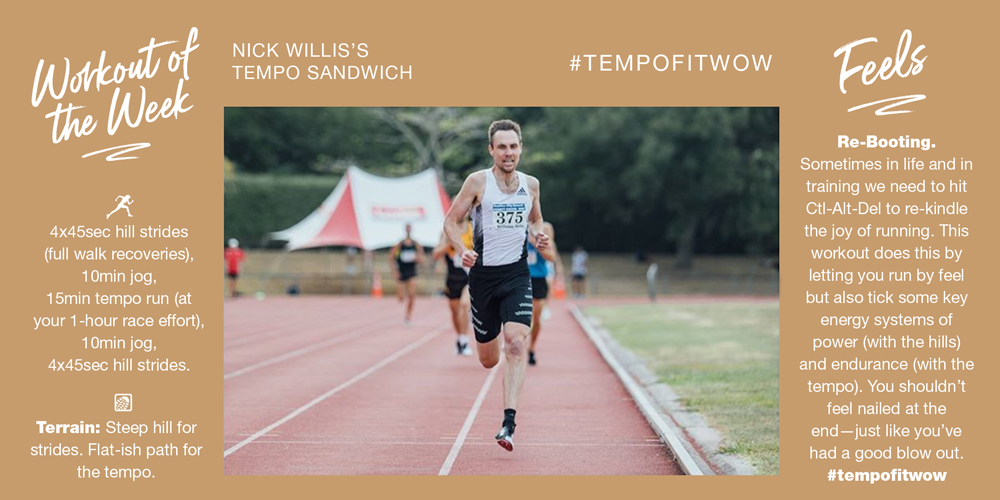 For the first time ever we have an Olympic medalist talking us through our weekly workout. Nick Willis brings one of his favourite reboot-style workouts that he actually used to great effect 10 days before he set the current New Zealand 1500m Record of 3:29 back in 2015.
WHAT
The Tempo Sandwich
4x45sec hill strides (walk recoveries)
10min jog
15min tempo run (at lactate threshold effort—your 1-hour race effort)
10min jog
4x45sec hill strides (walk recoveries)
Terrain: You need a nice steep hill and a flatfish pathway for the tempo.
Feels: Re-Booted
Sometimes in life and in training, we need to hit Ctl-Alt-Del and re-kindle the joy of running. This workout does that by letting you run by feel but also tick some key energy systems of power (with the hills) and endurance (with the tempo). You shouldn't feel nailed at the end—just like you've had a good blow out!
WHY
In the podcast Nick explains why he loves hills to take the impact out of the legs while still getting a good solid muscular and metabolic workout. He likes to do this workout when track workouts are making him a bit stale and he's sick of keeping track of splits and just wants to run something by feel.
HOW
The hill strides should be done on a moderately steep hill and at about mile race intensity (i.e. you should be able to maintain that effort level for five minutes if you had to). Walk back down the hill between reps, making sure you're fully recovered.
The tempo run is run at the lactate threshold effort that all you regular TempoFit Workout of the Week peeps know so well. It's about your 1-hour race effort. So something between 10k and half marathon race effort. Keep the tempo run on a flat-ish pathway. And don't get caught up on splits but run it by feel.
GET TO KNOW NICK WILLIS
Nick Willis is the silver medalist from the 2008 Beijing Olympic 1500m and also the bronze medalist from the 2016 Rio Games.
He grew up n Lower Hutt, New Zealand, but has spent most of his adult life in the States after taking up a running scholarship to Michigan University where he came under the guidance of coach Ron Warhurst who is still coaching Nick today (with some solid assistance from Nick's wife Sierra).
In the podcast, Nick explains how even at age 37 he's still hoping to make his fifth Olympic Games in Tokyo next year.
Nick's personal bests are:
800m: 1:45.54
1500: 3:29.66
Mile: 3:49.83
3000m: 7:36.91
5000m: 13:20.22
Podcast (workout-of-the-week): Play in new window | Download
Subscribe: Apple Podcasts | RSS | More