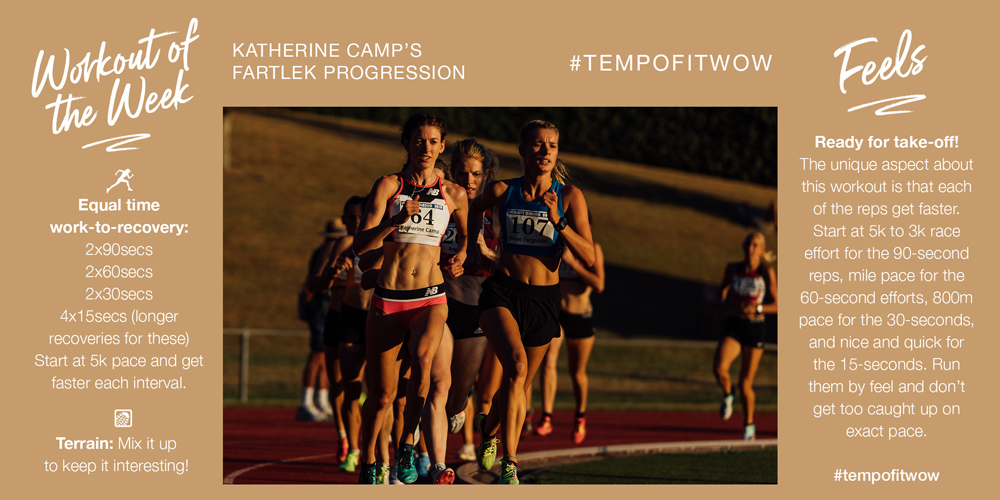 Katherine Camp is one of the NZ's leading middle distance runners and the reigning 800m National Champ. This week she guides us through a fartlek workout designed to build that speed endurance and also teach the body to run fast and controlled when tired.
WHAT
Fartlek Progression
Equal time of work-to-recovery:
2x90secs
2x60secs
2x30secs
4x15secs (longer recoveries for these—make sure you're fully recovering)
Start at 5k pace and get faster each interval.
Feels: Ready for take off!
The unique aspect about this workout is that each of the reps will be getting faster. Start at 5k to 3k for the 90-second efforts, mile pace for the 60-second efforts, 800m pace for the 30-seconds, and nice and quick for the 15-seconds. Run them by feel and don't get too caught up on exact pace.
Terrain: Mix it up to keep things interesting!
WHY
The combo of speed, interval training and endurance-style training really lends this workout to bringing together many different elements that make up a strong runner. And you'll also practice the all-important skill of increasing your speed as the intensity and fatigue increases.
HOW
Be sure to be well warmed up with some drills and dynamic stretches and some strides so you can go straight into 5k pace for that first interval.
Focus on great technique in the final 4x15secs. In the podcast interview Katherine Camp explains how she's focusing on standing tall, keeping her arm drive going (and not twisting across her body), and also keeping the hips up and not "sitting in the bucket".
GET TO KNOW KATHERINE CAMP
As a 54.19 400m runner, Katherine has oodles of speed to burn now that she has stepped up to the middle distances. Which is all quite funny because as a teenager trying to be a middle distance runner, her then coach said she didn't have enough speed for the 800 or 1500 so should focus on the 400m to get faster.
Getting faster worked and she ended up running as a sprinter (400m and 400 hurdles) in the States for college and since returning to her home of Christchurch has now focused on the 800 and more recently the 1500.
In 2019 she famously won the double 800 and 1500 titles at the National Champs at her home track of Nga Puna Wai where she had a great battle with Angie Petty (who we had on the podcast two weeks ago). This year she reclaimed the 800m title but got edged out by Angie in the 1500.
Katherine Camp's personal bests:
400m: 54.19
400 Hurdles: 1:01.78
800m: 2:02.63
1500m: 4:15.09
Katherine Camp on Instagram: https://www.instagram.com/ktbugz14/
Podcast (workout-of-the-week): Play in new window | Download
Subscribe: Apple Podcasts | RSS | More