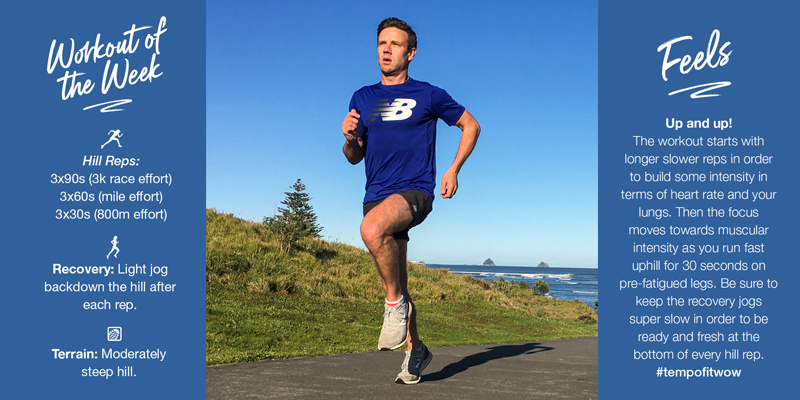 It's pure hills on the menu this week! This workout will give some intensity to both the muscles and the lungs.
WHAT?
Hill Reps:
3x90s (3k effort)
3x60s (mile effort)
3x30s (800m effort)
Recovery: Light jog back down the hill after every rep.
Terrain: Moderately steep hill.
Feels: Up and Up!
The workout starts with longer slower reps in order to build some intensity in terms of heart rate and your lungs. Then the focus moves towards muscular intensity as you run fast uphill for 30 seconds on pre-fatigued legs. Be sure to keep the recovery jogs super slow in order to be ready and fresh at the bottom of every hill rep.
WHY?
When you're looking to add intensity to your running, look no further than hills!
This week that intensity is coming in the form of lung capacity in the first two sets of three. Then, once we shorten the efforts up and increase the pace, we're demanding an increased power output over shorter periods of time, which is great for building strength.
HOW?
Most hill sessions should be done by feel rather than by actual pace. So forget about the GPS watch, but do keep track of where you end up at the end of each rep as a gauge for how quick each rep has been run.
Keeping the recovery jogs light will enable you to express good intensity in the reps themselves.
THOUGHT FOR THE WEEK: HOW DO YOU BALANCE RUNNING & LIFE?
By Hayden Shearman // We're all busy people. So how can we both maximise our running training and make sure we're fully present in the other areas of our lives? Here are some rules I try to live by:
Make going for a run easy. I run early in the morning, before anyone else in the household is up. This makes sure that I can get the run done and also that I'm there for the family and work for the rest of the day. The other trick I do is lay out my running gear the night before, to minimise the things that can stop you getting out the door when it's time to run.
Make good systems. Along the same lines, it's important to have good systems set up to support your running addiction! These can include having a 24-hour gym membership so you can shower anytime in whatever suburb or city you find yourself, having several sets of running gear and shoes (one in your car, one at work, two at home) so you can capitilise on an opportunity to go running.
Put money in the bank. So, you're planning a 3-hour trail run on Sunday that includes an hour of travel there and back and an hour at the café to recover … this calls for banking away some relationship "deposits" on Saturday with that special someone, family members, the garden and pets.
Kill multiple birds with one run. Can you include running with another activity that you want to do? Great examples can be run commuting, listening to audio books, and catching up with friends on the run.
Run local. One of the issues I have with trail running for my stage of life with a young family is that it just takes up too much time getting to the trail and fluffing around with gear and walking sections of the course. I'd rather be running from the moment I leave my house in order to maximise time training. This is such a big one for my wife and I that for the last decade we've chosen our living situations largely based on their proximity to good running locations.
What tricks do you have for smoothly incorporating running into life?
Podcast (workout-of-the-week): Play in new window | Download
Subscribe: Apple Podcasts | RSS | More