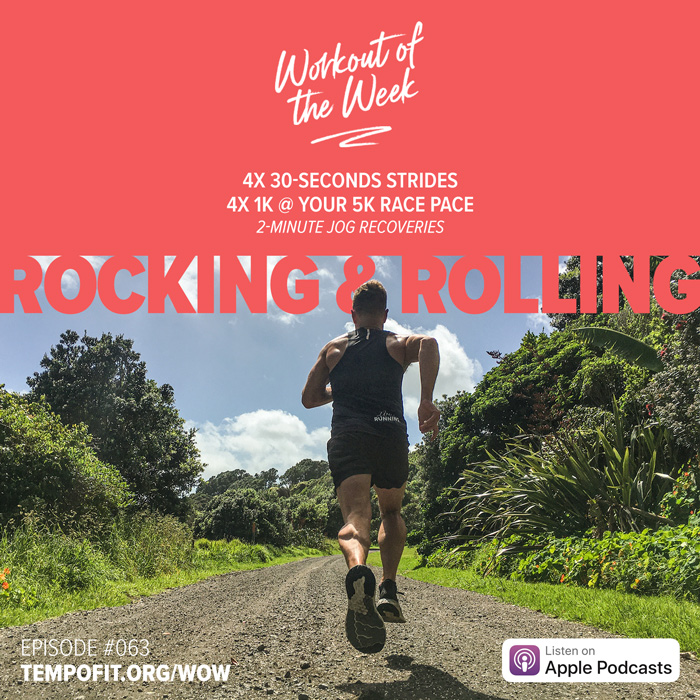 A little bit of speed, a little bit of intensity … this week's workout is definitely a recipe for a whole lot of fun!
WHAT?
4x 30secs strides
4x1k @ your 5k race pace
Recovery: 2min jogs
Terrain: Flat, measurable pathway.
Feels: Rocking & Rolling
This week's workout starts off by getting the wheels rolling with the fast controlled strides. Remember, these aren't sprints, they're about staying in control and focusing on technique. Then the 1k reps allow you to rock out, expressing that great technique from the strides while dealing with some intensity and oxygen demands.
WHY?
This workout is really two in one. The first part, the strides, is all about developing technique and getting you comfortable with running fast. The second part is to demand more from the lungs. These four intervals will crank up the role oxygen is playing on your ability to maintain a good pace for reasonable-length intervals.
HOW?
Strides before a workout give you an opportunity to work on the movements you want your body to be making when the going gets tough. So think of those cues that are unique to your running technique that will keep you running smooth and efficiently and practise them during the strides.
Also, if you haven't already, this workout is a good reminder to hunt out a good 1k loop in your neighbourhood that you can use for these sessions and for tempo runs. 1k loops are often better than out-and-back courses because they lessen the effect of wind on your splits. Ask around your fellow runners for the best training loops and Strava's Heatmap is useful for finding loops in your neighbourhood.
THOUGHT FOR THE WEEK:
AN ODE TO THE INFAMOUS DOUBLE DAY
By Hayden Shearman
Why run once a day when you could run twice? Or three times for that matter?!
Double run days are great for adding volume to your training, for shake out runs the day of key workouts, or just to fit around life (i.e. childcare or commuting). But how to tackle them? Here are my top five tips.   
Ease Into It. Like with anything in training, you want to slowly adjust to the new training stress of running twice in one day. So, don't dive straight into running two normal length training runs or one long run/workout plus an easy run. Make your first few double days two short and easy runs of 15-30 minutes each, and work your way up from there.
Keep One Run Short. Once you've got a few double run days under the belt, be sure to keep one of those runs shorter. So, you may be doing a workout in the afternoon and want to add some mileage in the morning as a shake out run, keep that morning run cruisy and short.  
Keep One Run Easy. As well as being shorter, that second run should also be well into your conversational running range. Even include some walk breaks, stop and do some drills and dynamic stretches. Just chill!
Heavy Legs Are Normal. When you start doing double runs, don't be surprised if your legs feel a little heavy in the second run. It's a weird sensation, because your legs will feel somewhat woken up from the morning run, but also a little fatigued and like they're still in recovery mode. You'll get used to this and after a couple of months the body adjusts.
Practicalities. Timing meals, showers, fitting around work and family, loads more washing—all these practical hurdles make the double day more challenging. So, if you are considering introducing a double day once a week, be sure to choose a day of the week that allows you time for adjusting meal times to suit and for the extra time you'll spend showering, changing and loading your training epicness to Strava! This is why many people find commuting the ideal way to do double days, because it can often save time when you consider the time spent sitting in traffic, parking and doing a separate run.
Podcast (workout-of-the-week): Play in new window | Download
Subscribe: Apple Podcasts | RSS | More