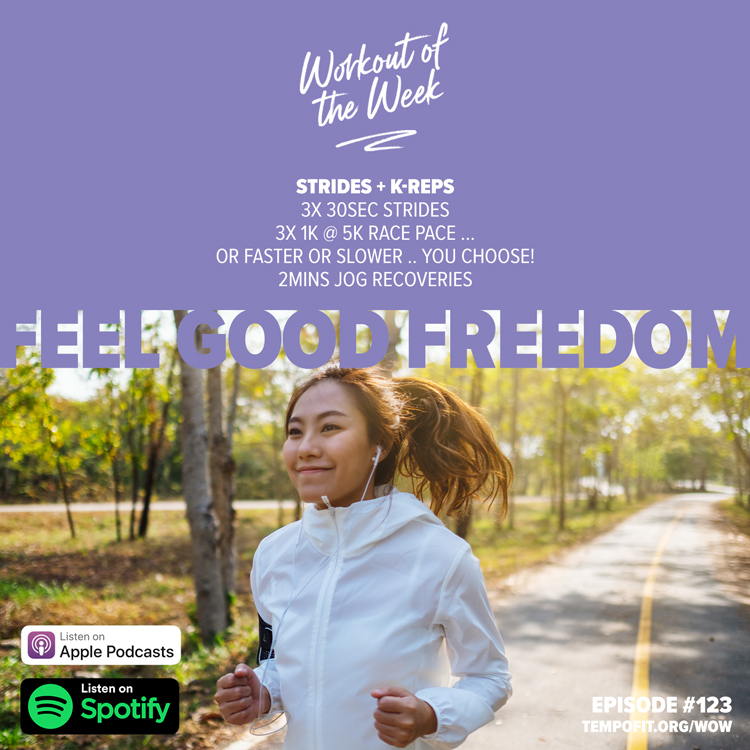 One of the best things about running is that it can make us feel better and experience freedom. This is a workout designed to tick both those boxes and can be tailored to meet your training needs whether that's for intensity or recovery.
WHAT?
Feel Good Freedom
3x 30sec strides
3x 1k @ 5k race pace … or faster or slower .. you choose!
2mins jog recoveries
Terrain: Flat, measurable pathway.
The idea with this workout is to just get the juices flowing without letting them totally escape down the drainpipe! So, 3x1k at 5k pace for most people is a fun but not massively challenging session.
But you can turn up the dial if you like and run 3k pace in order to make this a true high intensity interval session. Or for more of a chill, turn-the-legs-over style session slow it down to 10k or half marathon pace.
WHY?
This is a classic workout to have up your sleeve for when you're a little short on time and need something fast-ish that will get you amping on running. The ability to tailor it to suit your training and how you're feeling on the day makes it especially appealing.
HOW?
Remember that strides are short bursts of fast controlled running. They're not sprints. They're designed to set the tone for the remainder of the session by practicing good technique and staying relaxed and in control.
Head to the Race and Pace Calculator at tempofit.org to calculate your pace for this session.
You'll also want some terrain that allows you to measure your splits accurately so fine somewhere flat and GPS-friendly.
Keep the recoveries as light jogs or even slow to a walk if you haven't done much endurance training recently.
Podcast: Play in new window | Download
Subscribe: Apple Podcasts | RSS