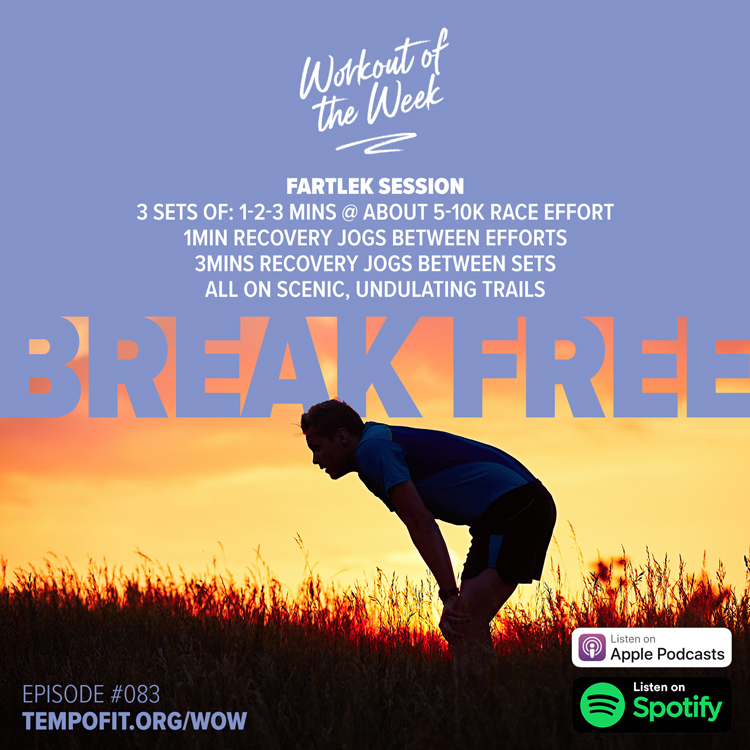 This workout is as simple as 1, 2, 3! Well, it's 3x 1, 2, 3 to be precise, but it's another fun and free-spirited fartlek session. So find your favourite trails and let's go get those wheels moving!
WHAT?
Fartlek Session
3 sets of: 1min, 2min, 3min @ about your 5k-10k race effort
1min recovery jogs between efforts
3mins recovery jogs between sets
Terrain: Scenic, undulating trails.
Breaking the workout into sets, with two nice long recovery jogs in the session, allows us to add a little more speed and intensity—hence the 5-10k race efforts. Even so, be free to find the effort level that's right for you and the training block you're in.
Fartleks are all about being free to express yourself!
WHY?
A good fartlek session enables you to tick a lot of boxes. Today, we're specifically hitting some hills, some intensity (with the effort levels set between 5k and 10k race efforts) and some endurance (you'll be out there for 30 minutes with an elevated heart rate). As such, they create a really good platform for future training sessions and do so in a fun, free-spirited way.
HOW?
Rather than being glued to your GPS and splits, be free to listen to your body and run the speed that feels natural for the terrain and your training and your goals right now.
Also, it's a good idea to keep the 3-minute efforts a little slower than the 1- and 2-minute blocks.
Read this week's Thought for the Week here.
Podcast (workout-of-the-week): Play in new window | Download
Subscribe: Apple Podcasts | RSS | More