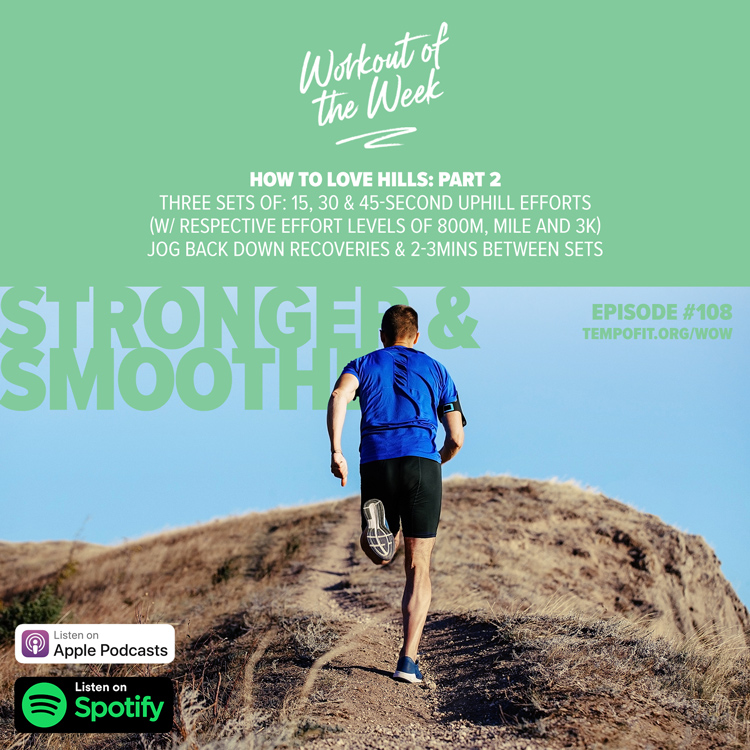 Want to get faster? Get stronger? Run smoother? Hills are the answer to many of these questions and this week continue our series of quality-over-quantity hill reps where mastery is the goal, not exhaustion.
WHAT?
HOW TO LOVE HILLS: PART 2
3 sets of:
15, 30 & 45-second uphill efforts
(w/ respective effort levels of 800m, mile and 3k)
Jog back down for your recoveries & 2-3mins between sets
Terrain: Moderate hill.
This work has 4 minutes 30 seconds of solid uphill running so there is an element of quantity to it, so it's important that the recoveries are nice and long and that the 30-second efforts are noticeable slower than the 15-second efforts and the 45-second efforts are even slower.
Remember to focus on great technique: stand tall (hips up!), drive the arms, quick strides, fast knee drive.
WHY?
This workout has plenty of recovery to make sure you're fresh at the start of each rep, which should shift the focus to moving well, not moving hard.
In a fresh state, your central nervous system is far more able to coordinate your movements and to learn make them more efficient.
HOW?
The recovery jogs back down the hill should be super light and feel free to take more time between strides if needed. Likewise, make the recovery jogs between sets nice and long to feel fully recovered before the next set.
The location for this session is important. For those new to hill running, find a mild gradient (somewhere between 3-5%). And for those who have been following the last couple of weeks of training with us, you'll be fine to tackle something more moderate (like 6-10%).
Finally, this workout is somewhat lighter than the typical session we do in Workout of the Week, so we'd encourage the regulars to include an additional session in your week of 4×5-minute fartlek (with 2min jogs) at a pace of your choosing just to keep the engine humming (avoid any nasty hills though!).
THOUGHTS FOR THE WEEK:
WHAT HAVE BEEN YOUR MOST ENJOYABLE RUNS?
By Hayden Shearman
Many of us runners do it to seek out times or performances or conquer a certain distance, but it's important to also go back to the pure enjoyment of running and intentionally seek out the perfect run.
I'm a surfer and the old mantra amongst us wax heads is we're trying to find the perfect wave—not to be the best technically or the fastest or do the best trick, but find the perfect wave. That wave looks different for everyone, but the focus is on the wave, not so much the surfing of the wave. I like this concept to inspire the more soul-filling side of running where you go running for the sake of finding a "perfect run" not the perfect performance.
So, before I get to ideas on how to seek out the perfect run, here are some of my all-time favourite runs to give you an idea of where I'm heading with this:
Lauterbrunnen (Switzerland, autumn 2011): 3000-foot cliffs, huge waterfalls, endless runnable ridgelines, quant Swiss farms and log cabins, lush valley floors, clean crisp autumn air. I spent a full day here with my wife and I ended up running three times that day and covered about 42k. I just could not get enough of the running here!
Richmond Park (London, summer 2012): A 7-mile perimeter loop around possibly the best inner-city, walled-off park on the planet, complete with live roaming deer, undulating limestone trails, shady woodlands and wide-open meadows—all surrounded by a bustling city. (Oh, and right next door are Wimbledon Common, Bushy Park, Home Park and the Thames Path.) This run is included in my book Runner's Guide to London.
Tongariro National Park (New Zealand, winter 2020): New Zealand is a runner's paradise, with mostly ideal temperatures, a massive variety in terrain and scenery, and virtually no wild animals to worry about. And the pick of the bunch for me is the central North Island's volcanic plateau that is home to three towering volcanoes (one of which was featured as Mt Doom in the Lord of the Rings films). Within the space of a one-hour run you can visit steamy rain forests, alpine desserts, snow-covered scoria, old lava flows, waterfalls and even a Chateau!
So, they're some of my favourite running memories, and here are some ideas to seek out your own:
Book them in. Runs like the above typically don't just happen. They require setting aside time, looking at weather forecasts and Strava Heatmaps and guide books, taking safety precautions, and prioritising them in your training.
Make it mindful or social. Sometimes I like to run alone and just experience nature right up close and personal. Other times I love to be with a crew and share the magic with friends. Safety can be a deciding factor here but having a nice balance of both is always the goal for me.
Cruise. I talk HEAPS about getting the most out of yourself and developing your speed and pacing, but sometimes you just need to chill. Take walk breaks, stop for a swim or a coffee or picnic, snap photos, meditate by a stream, and take the gear you need to turn a run into a morning … or an entire day!
Podcast (workout-of-the-week): Play in new window | Download
Subscribe: Apple Podcasts | RSS | More