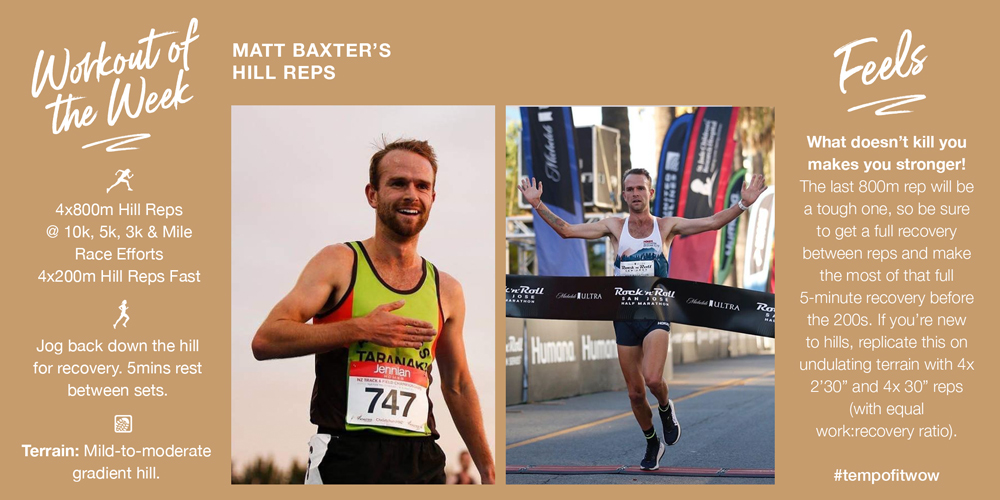 Matt Baxter is the New Zealand record holder in the 5000m indoors and World Cross Country represented. He's a beast of a runner and this week presents a VERY MEATY workout in the hills.
Matt Baxter's Hill Reps
4x800m Hill Reps @ 10k, 5k, 3k & Mile Race Efforts
4x200m Hill Reps Fast
Jog back down the hill for your recoveries and allow a full 5 minutes rest before the 4×200.
Terrain: Jog back down the hill for recovery. 5mins rest between sets.
Feels: What doesn't kill you makes you stronger!
The last 800m rep will be a tough one, so be sure to get a full recovery between reps and make the most of that full 5-minute recovery before the 200s. If you're new to hills, replicate this on undulating terrain with 4x 2'30" and 4x 30" reps (with equal work:recovery ratio).
WHY
As Nick Willis explained a few weeks ago on the podcast, one of the great benefits of hills is that you can generate plenty of fatigue in the legs without doing that much "damage" to them (assuming you're already conditioned to hills and don't have any achilles or calf issues). So, this one will hurt, but the easier paced first two reps will ease you into it and just when it gets pretty hard you'll be on the verge of the 5-minute rest and the short, fast 200s.
HOW
If you are new to hill training—don't start with this workout! Instead do the first rep or two on the hills and then do the remainder of the workout on the flat or undulating terrain.
For those sticking to the hills,you don't have to measure out 800m exactly, just do it roughly. And you may like to just do it by time where you run the first rep in 2'30". Remember, where on the hill you reached, and then aim to get their 5 seconds faster for each of the next three reps.
GET-TO-KNOW MATT BAXTER
Matt Baxter is the New Zealand indoor 5000m record, holder, he came second at the prestigious NCAA Cross Country Champs (US University Champs) and picked up three team titles, and represented New Zealand at the World Cross Country Champs.
So it goes without saying that this guy has bucket loads of strength and his big talent is running fast on tired legs. This is a workout that is designed to teach your body to do just that and it's the workout that he used to gain qualification to the 2020 World Indoor Champs in the 3k (which has since been postponed to 2021).
Matt Baxter's Personal Bests:
Mile: 4:02.20
3000m: 7:47.85
5000m: 13:27.61
10,000m: 28:10.05
Half Marathon: 1:02:57
Follow Matt Baxter on Instagram: https://www.instagram.com/matthewrobertbaxter/
And be sure to check out Matt's podcast Running Rivals.
Podcast (workout-of-the-week): Play in new window | Download
Subscribe: Apple Podcasts | RSS | More