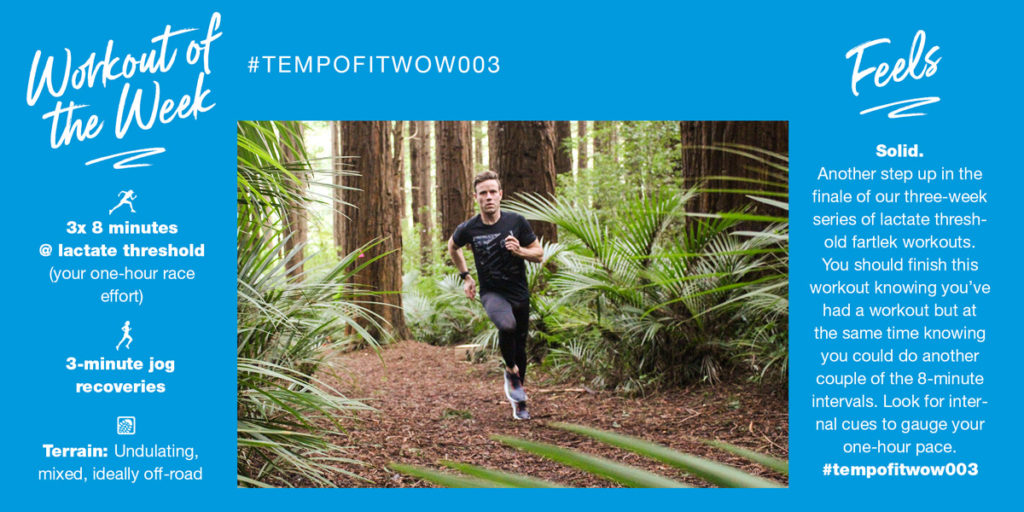 We're now into the finale of our three-week block of lactate threshold fartlek training. This time we've got a significant step up in duration of each of the intervals, but the good news is that we've only got three intervals … and longer recoveries!
It's a fartlek workout again, so hunt out your favourite undulating trails and get ready to get rollin'!
Be sure to join our club on Strava: strava.com/clubs/runtempofit
And our group on Facebook: facebook.com/groups/teamtempofit/
And don't forget to connect on:
#tempofitwow003 (the three numbers at the end matching the number of the workout/episode)
So this week's workout …
THE WHAT
3x 8 minutes @ your lactate threshold effort (your one-hour race pace—the effort level you could sustain for 60 minutes all out).
RECOVERY
3 minutes recovery jogs after each 8-minute interval (NOTE: it works out that the entire workout takes exactly 30 minutes, minus the final recovery jog).
TERRAIN
Ideally off-road on undulating trails or mixed surfaces (grass, dirt, gravel).
FEELS
Solid. Another step up in the finale of our three-week series of lactate threshold fartlek workouts.
You should finish this workout knowing you've had a workout but at the same time knowing you could do another couple of the 8-minute intervals (remember, we're only doing 24 minutes of total work, compared to the 60 minutes you should be able to do at this effort level).
Look for internal cues to gauge your one-hour pace."
THE WHY
Next week we're diving into the wonderful world of tempo running. So this week provides a nice bridge between the interval work we have been doing and the non-stop tempo running that awaits.
We will start to require a little more from the mental side of things—staying on pace and resisting that urge to slow up in the final stages of the workout.
You'll notice that things start to get a little uncomfortable and challenge of today (and the coming weeks) is to learn to mentally and physical become comfortable in that discomfort!
Tune in to the podcast to find out more.
THE HOW
Once again we're relying a lot on internal cues for your pacing. You might also wish to use heart rate, but the key cues I use are:
Breathing (can you still speak in short sentences?)
Cadence (a slowing cadence is often a sign of slowing up, and vice versa)
Heel recovery (being aware of how close your heel gets to your butt on each stride is a great clue for knowing what pace/effort level you're running)
Arm drive (think about how high your hands are coming up)
The podcast breaks this down further.
#tempofitwow003
Join us on Facebook and Instagram
TempoFit: https://www.tempofit.org
Podcast host and head coach Hayden Shearman is on Instagram: https://www.instagram.com/haydenshearman/
and on Facebook: https://www.facebook.com/haydenshearman/
Workout of the Week is brought to you by TempoFit.
Podcast (workout-of-the-week): Play in new window | Download
Subscribe: Apple Podcasts | RSS | More