Now we're in the middle of Massive March we have the perfect man for the job of helping us adapt to going longer and marathon pace: Oska Inkster-Baynes—the reigning NZ marathon champ!
This is a workout he will do out on the hills behind Christchurch and is ideally done to heart-rate/feel rather than exact pace. But you could do it to pace on the flat if you'd prefer.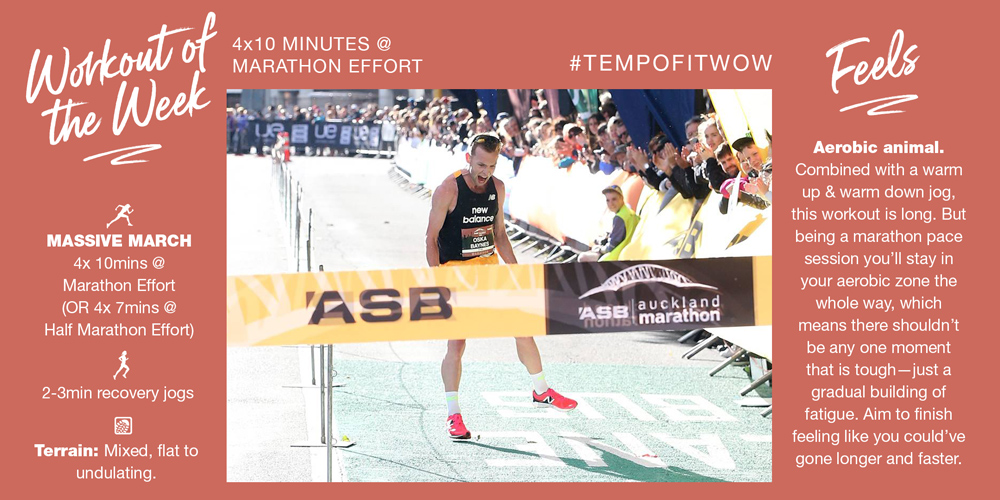 WHAT
4x10mins @ marathon pace
(OR 4x 7mins @ half marathon).
Recovery: 2-3mins jog
Terrain: Flat measurable path.
Feels: Unleash your inner aerobic animal.
Combined with a warm up & warm down jog, this workout is long. But being a marathon pace session you'll stay in your aerobic zone the whole way, which means there shouldn't be any one moment that is tough—just a gradual building of fatigue. Aim to finish feeling like you could've gone further and faster.
WHY
This run will take up at least 1 hour 20 minutes of your time, so it starts to have that feel of a long run and so simulates the marathon quite well.
The marathon (or even half) isn't about how fast you can run 30 minutes into a workout, it's about what your body does after hours of running. So, keep this in mind when you first switch into marathon effort, so that you don't start too fast.
HOW
In the podcast, Oska talks about how he uses a heart rate monitor to know where he should be sitting during this workout. If you're new to heart rate running, this will take awhile to understand your marathon pace heart rate, but as a rough gauge your marathon heart rate will be somewhere between 75 and 90% of your maximum heart rate (and this will vary hugely based on the time it takes you to run the marathon).
Keep in mind that heart rate will creep up throughout the marathon/workout even though you're maintaining a similar pace (e.g. you might start at 160bpm and finish at 172bpm).
Use the TempoFit.org calculator to work out your paces.
GET TO KNOW:
OSKA INKSTER-BAYNES
Oska has been one of New Zealand's top domestic distance runners for the past decade. He has multiple NZ half-marathon titles, is a former winner of the Auckland Marathon, is the reigning NZ marathon champ and was selected to represent NZ at the World Half Marathon Champs later this month.
Unfortunately, the coronavirus has put a major spanner in the works with a delay in the World Half Champs to later this year, but expect to see more from Oska lighting up domestic races here in New Zealand in coming months.
As an example of how good shape he's in, at the weekend he did a workout of 2x10k and these were his 10k splits:
Oska's personal bests:
Half-marathon: 1:04:50
Marathon: 2:18:11
Oska also owns the brilliant running store Frontrunner Colombo in Christchurch, so be sure to visit next time you're in the neighbourhood!
Oska on Instagram: https://www.instagram.com/oskabaynes/
Got a training question? Email me!
Podcast (workout-of-the-week): Play in new window | Download
Subscribe: Apple Podcasts | RSS | More