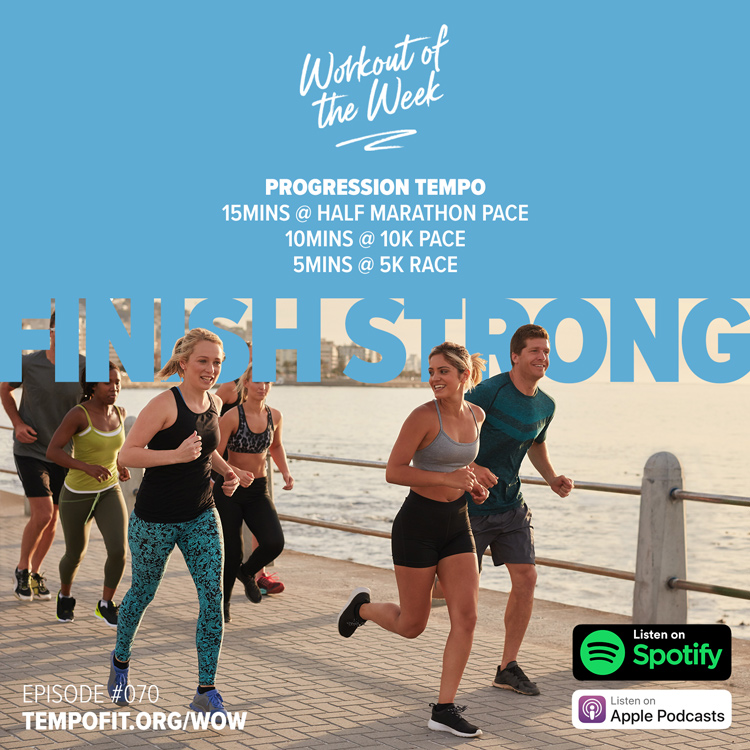 This workout is an all-time classic TempoFit session deigned to get you strong and reinforce that ability to close out a race hard and fast.
WHAT?
Progression Tempo
15mins @ your half marathon race pace
10mins @ 10k race pace
5mins @ 5k race pace
Terrain: Flat, measurable pathway or running track.
Feels: Finish Strong!
This 30-minute tempo run tests your ability—in body and mind—to start controlled and then really bring it home strong.
There are several key moments where you'll need to make that decision to get after it. And this is great training for both racing and for finishing strong in the challenges of life.
WHY?
This workout has many of the same physiological characteristics of a tempo but with the added bonus of some upper aerobic development and leg speed work in the final 5 minutes.
And, of course, the mental strength that speeding up when things start heating up is a massive take-away of this session.
HOW?
After you've controlled things in the first 10 minutes to sit at half marathon pace, rather than anything faster, there are a couple of key moments to nail in this workout:
15 minutes: Here you'll go from a sustainable, highly aerobic pace, to a pace faster than your lactate threshold where you'll start to accumulate fatigue at a quicker rate.
22 minutes: Things will be heating up now, but there's still a fair amount of work to go before slowing down. So stay focused on good technique and staying relaxed while running quick.
25 minutes: The final gear change. Be sure to be realistic about your 5k pace and not make this final 5 minutes too quick.
28 minutes: Now's your time to confront the beast and crush it with great technique and a healthy dose of grit, realising that it's just two minutes of discomfort left.
THOUGHT FOR THE WEEK:
HOW'S YOUR RELATIONSHIP WITH FOOD?
By Hayden Shearman
Food is always a touchy subject for us runners. We span the full spectrum of running excessively in order to eat whatever junk food we like to restricting nutrition in order to "improve" running performance but just end up under nourished (with performance slipping) and everything in-between.
Obviously, both ends of this nutrition spectrum are incredibly unhealthy, and while I'm no nutritionist (NOTE: you should definitely hunt out a professional if you think you're dealing with any of these issues), here are some tips that I employ with the goal of maintaining a balance somewhere in between those two destructive extremes, while finding a much better third alternative in the process.
Food is fire for your engine: This third alternative, for me, comes with understanding that the word "calorie" comes from the Latin word "calor" which means heat. And this is a helpful way to look at food: it's fire to get your engine humming. To be good runners, we need calories as fuel. So, let's stop having a negative relationship with them—you're not just consuming calories, you're putting a fire in your belly.
Clean burning fuel is best, but … : I often talk about viewing our bodies like Ferraris—incredible, well-tuned machines that are built for running. And any Ferrari deserves great fuel. At the dinner table that means an appropriate balance of macronutrients (fats, proteins and carbs—your nutritionist will help you dial this in) and a rainbow of colourful vegetables. Getting this staple fuel to become a habit in our lives is key, and this is a bit like running your new Tesla off clean electricity. But what if we told you that your Tesla could also run off the occasional rocket fuel?
Eat treats: Although some people prefer to go totally cold turkey on the treat front, I find that if I allow myself treats, but just have some good guidelines around it to keep the treat cravings fenced in, I can give myself the equivalent of physical and psychological rocket fuel. Some dark chocolate after dinner, dessert a couple of times a week, burger and chips to celebrate a big workout or race—these are all great examples of treats that can serve as rocket fuel to my body and mind. But here's how I keep it reined in …
No treats unless there's a rainbow: Have I got my micro-nutrients in already? Was there salad with my meal or was it just greasy fish and chips? If not, then I don't consider that the dessert is very deserved.
No treats before lunch: This is a little rule I just fell into at high school when I couldn't be bothered making myself a good lunch so would just pack two pieces of dry bread, a carrot and an apple—every day. So, until 3pm, this is all I'd eat, with some Weetbix and yoghurt for breakfast. Then after school I'd raid Mum's pantry. While I no longer have access to mum's pantry every afternoon, this process has stuck with me and I'm pretty strict on avoiding my kryptonite foods until I've had lunch. This gives me about 16-17 hours a day (including sleep) where rocket fuel is off the menu, leaving only a third of the day for my diet to get a little more "heated".
What are some tricks that you use to make sure you're keeping your Ferrari fuelled and firing?
Got a training question? Email me!
Podcast (workout-of-the-week): Play in new window | Download
Subscribe: Apple Podcasts | RSS | More