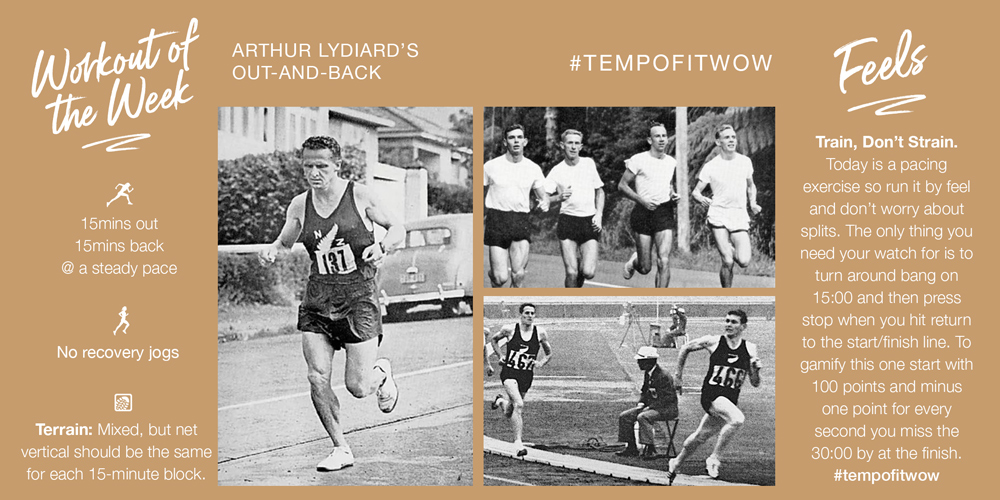 This week we get inspiration from one of the world's great coaches, Arthur Lydiard. He became famous for his periodised training approach and the out-and-back was a common session he would do in the base conditioning phase, which was an athlete's of-season—making this ideal for a lockdown workout.
WHAT
Arthur Lydiard's Out-and-Back
15mins out
15mins back
All at a steady state, aiming to feel "pleasantly tired" at the end.
No recovery jog.
Feels: Train, Don't Strain
Today is a pacing exercise so run it by feel and don't worry about splits. The only thing you need your watch for is to turn around bang on 15:00 and then press stop when you return to the start/finish line. To gamify this one, start with 100 points and minus one point for every second you miss the 30:00 by at the finish.
Terrain: Mixed, but net vertical should be the same for each 15-minute block.
#tempofitwow
WHY
Breaking free of the watch and of splits is a great way to learn to pace yourself and to truly listen to your body. It will pay dividends massively when it comes to running more even workouts in the future and also running more evenly paced races.
This workout also enables you to run by feel, so that you're pleasantly tired and can wake up tomorrow in order to log some quality miles on reasonably fresh legs.
HOW
Don't worry about exact splits today. Just eyeball your watch when that halfway mark is approaching so you can turn around bang on 15:00. Aim to not look at the watch again until you reach your start/finish line where you'll hit stop and see how many seconds either side of 30 minutes you were—hopefully you're bang on!
Share your score with us on Instagram tagging us in @runtempofit.
GET-TO-KNOW ARTHUR LYDIARD
Runner's World hailed Arthur as the world's "All-time best running coach". That's pretty high praise. And although his training plans would be unlikely to win you a gold medal these days, his principles can be clearly seen in many of today's top athletes' training regimes. So much so that even sports like cycling, swimming, rowing, football and rugby have learnt and applied bucket loads from Arthur.
He is best known for his periodised approach to a training plan that broke a year into phases: conditioning (base phase), hills, anaerobic training (lots of track reps), coordination training (lots of sprints and/or race specific work), and finally freshening up before the race.
He's also credited with starting the global jogging movement that really gained speed in the 70s after American coach Bill Bowerman (of Nike fame) visited New Zealand and saw what Lydiard was doing with the Auckland Jogging Club.
I'm no Lydiard officianado, so to dig deeper into his story and training philosophies visit the Lydiard Foundation: https://lydiardfoundation.org/
And this is a great resource for Lydiard principles: http://web.archive.org/web/20120309045823/http://www.lydiardfoundation.org/pdfs/al_training_eng.pdf
Podcast (workout-of-the-week): Play in new window | Download
Subscribe: Apple Podcasts | RSS | More