Bring on the mile reps! There's something nostalgic doing mile reps that connects us to generations who have come before and churned rep after rep of 1609m. Plus, they're great for building both engine and wheels!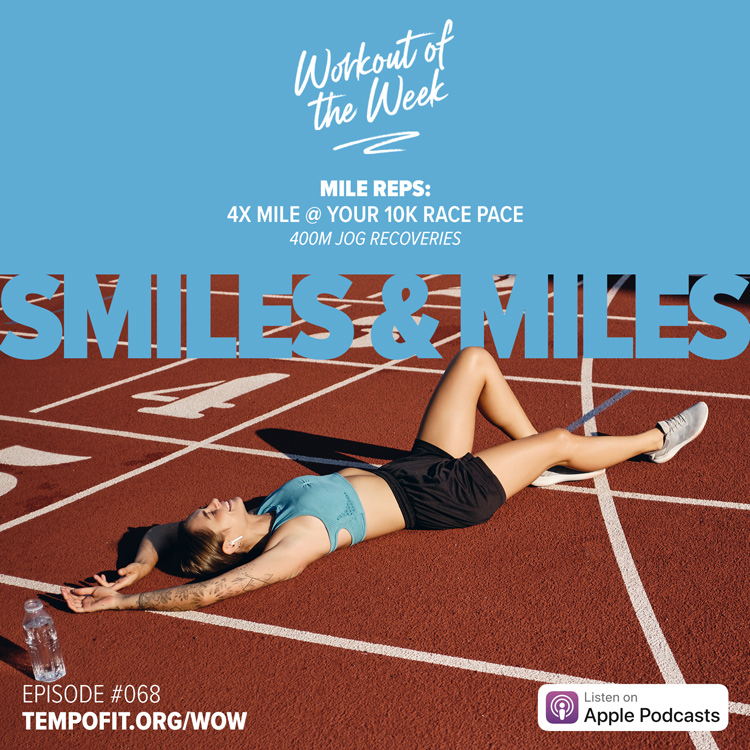 WHAT?
4x mile @ your 10k race pace
400m jog recoveries
Terrain: Running track or flat, measurable pathway.
Feels: Smiles & Miles
Runners have been doing mile reps forever! It's one of the classic workouts and this variation of the classic is designed to really get your engine purring and legs ticking over nicely. Keep the 400 recoveries nice an easy so you can really nail each mile rep.
WHY?
Compared to 1k reps, mile reps allow a little more time to sit at a higher heart rate and get a bit of that grind feel. So much so, that this can feel like four mini tempo runs rather than an interval session.
This grind will translate well once you get into racing or tempo runs, preparing you to go faster for longer.
HOW?
The 400m recoveries are key to make sure you're nailing each mile rep. So, keep them light jogging.
If your 10k pace is slower than 7 minutes per mile then shorten each of the reps to 1500m (as opposed to 1609m). And if you're still not under 7 minutes, do 1200m or 1000m. This ensures you're not doing too much work at the required intensity.
Also, if you're doing this workout by GPS (i.e. not on a track), you could just do 1600m reps and use the remaining 400m as your recovery, before going again at 2k.
THOUGHT FOR THE WEEK:
BECOME A FAN IN 2021
By Hayden Shearman
Following the professional sport of running can be tricky. It often only makes the news during the Olympics or when someone's busted for drugs. But the beauty of social media is you can connect directly to athletes from all over the world. And there are some amazing personalities and stories in the sport.
I've come up with my top five runners that I'm inspired by right now to help give you some inspiration on where you might like to start. They're from all over the world and across the spectrum of sprints to distance running. And a notable mention who just missed the cut for the top five is the Japanese marathon legend Yuki Kawauchi who runs tonnes of marathons every year, works a fulltime job, has a stonking fast PB of 2:08:14, and has still managed to win the Boston Marathon (2018).
Podcast (workout-of-the-week): Play in new window | Download
Subscribe: Apple Podcasts | RSS | More