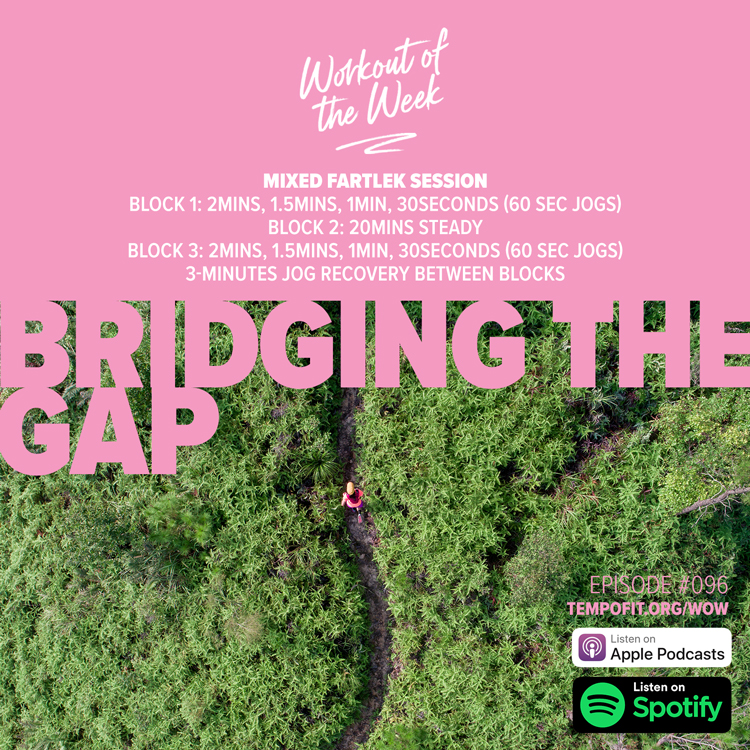 We've got an epic Olympic-themed workout for ya next week. But this week, we do a bridging session to connect the dots between the Mona Fartleks we have been doing and the big Olympic session to come.
WHAT?
Mixed Fartlek Session
Block 1: 2mins, 1.5mins, 1min, 30secs (60secs jog recoveries)
Block 2: 20mins steady
Block 3: 2mins, 1.5mins, 1min, 30secs (60secs jog recoveries)
3mins recovery jog between blocks
Terrain: Off road surface that isn't too technical.
Run the efforts of blocks one and three at 5k race effort or faster (the 30-second efforts could be up around mile pace). The steady block can be run between marathon and half marathon effort.
So, we get a nice mix of fast and far, steady and speedy. A mixed session like this is great for introducing a new element to your training, whether it's the endurance element or the faster running.
WHY?
Bridging workouts are important for allowing our bodies to adjust. Our tendons and muscle tissue really don't like sudden changes in training and we typically need 2-3 weeks of introducing a new focus before we dive deep into it.
HOW?
Blocks one and three should feel like they get faster and faster as each of the efforts get shorter. The 1-minute recovery jogs should be enough to allow a good expression of speed in the 60 and 30-second efforts.
The steady 20-minute block is just about time on feet at a slightly elevated pace that is just quicker than your fastest "easy" pace.
Podcast (workout-of-the-week): Play in new window | Download
Subscribe: Apple Podcasts | RSS | More