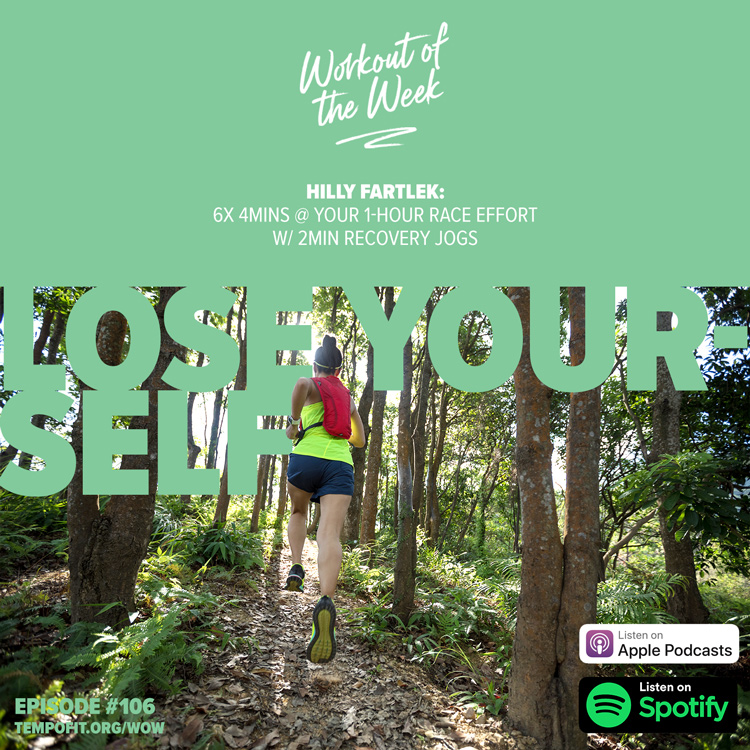 It's time to let yourself loose in the trails and hills! This fartlek workout is designed to free you up to get stronger on the verticals.
WHAT?
HILLY FARTLEK
6x4mins @ your 1-hour race effort
w/ 2min recovery jogs
Terrain: Undulating hills.
Hunt some hills today. But nothing too mountainous. Ideal would be uphill and downhill sections that take anywhere from 10 seconds to two minutes so you have that feel of constant change, without the strain of a long, grinding hill.
No hills? No problem. Exchange the hills for a treadmill, changing the gradient every 90 seconds.
WHY?
Fartlek workouts allow us the freedom to not worry what the watch is saying but to dial ourselves into how our bodies are working and free ourselves up to just have fun with the running.
They also allow us the opportunity to gradually introduce a new training stress, in this case hills, without shocking the body.
HOW?
Find an undulating hilly trail to do this session on. However, be sure not to push the uphills too hard and end up spiking your effort levels. Keep in the back of your mind that you're aiming for an effort level you could hold for one hour non-stop over this terrain.
The 2-minute jog recoveries play an important role in resetting the system, especially if you find you don't get the pacing dialled in over the changing terrain.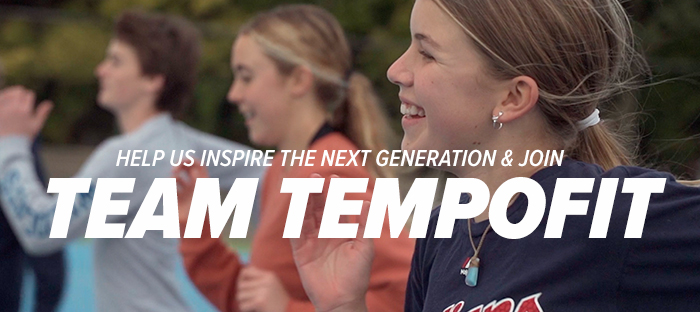 THOUGHTS FOR THE WEEK:
ARE YOU KEEN TO HELP?
By Hayden Shearman
ANNOUNCEMENT: We have launched a Patreon page for those who are keen to support Workout of the Week and, in doing so, support the work we're doing amongst young people in New Zealand—inspiring the next generation of runners.
So, we have just today launched a patron opportunity for you to not only support TempoFit Workout of the Week but also to support our work in schools and with young people (check out our school's programme called Run Revolution).
For as little $5 a month (or less or more—whatever you're happy to contribute) you can empower TempoFit to help 100s of adults progress their running journeys (through the Workout of the Week podcast and weekly run-zine) as well as kickstarting the running journeys for 1000s of school kids (through Run Revolution).
Plus, there are some pretty cool perks for being a Team TempoFit Patron …
Receive the entire TempoFit Audio Coach catalogue for free! ​(That's worth $45 NZ!!)
Be able to request a tailored Workout of the Week episode specifically for you and your goals (please give us at least one month notice before your key workout i.e. contact us two months before running Boston Marathon).
Enable us to keep Workout of the Week free to 100s of people worldwide.
And, by doing so, you'll free us up to deliver our Run Revolution programme into New Zealand schools—inspiring the next generation of runners!
So, for as little as the price of a coffee a month, you're helping your own running and ensuring others discover a love for running as well!
Win!
Check out our Patreon page here.
Become a Patron!
​
​#teamtempofit
​#tempofitwow
Podcast (workout-of-the-week): Play in new window | Download
Subscribe: Apple Podcasts | RSS | More