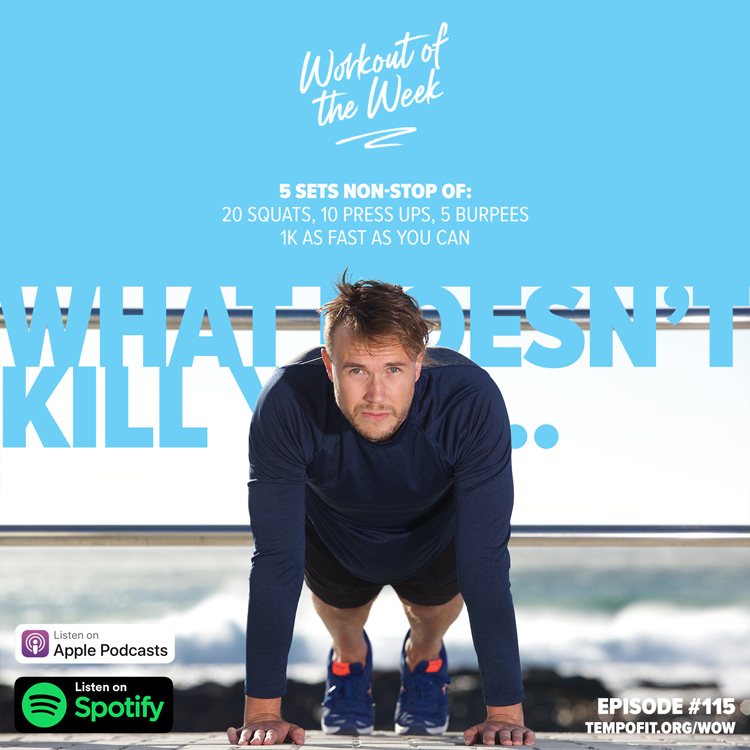 Up for a challenge this week? This running-meets-calisthenics will BURN!!!
WHAT?
What doesn't kill you … Pt. 3
5 non-stop sets of:
20 squats, 10 press ups, 5 burpees
1k as fast as you can
Terrain: Flat measurable path or running track
This workout challenge is a 5k but interspersing burpees, press ups and squats before every KM.
How close can you get to your 5k personal best? 12 minutes? 10 minutes? 5 minutes?!!
Give this workout a go and send your time to your friends, laying down the challenge!
WHY?
Strength work, even if it doesn't involve weights, is often over-looked by runners. It's a great way to build power, stability, coordination and overall athleticism—which should all improve your running in the long run (excuse the pun!).
A challenge like this is perfect when we find ourselves in a time where races are being cancelled (for our southern hemisphere audiences) and it's still a way off before the arrival of spring races (for our northern hemisphere audiences).
HOW?
Even though you're pushing yourself hard, be sure that you dial in good technique with the exercises. Also think about what sections you might like to focus on and really crush them (like the burpees) in order to use another section like the squats or running to go a little easier to boost recovery.
THOUGHTS FOR THE WEEK:
HOW TO HANDLE VARIABLE INTENSITY
By Hayden Shearman
Most running races, especially road races, we're aiming for even paces and a gradually increasing level of intensity. But in a session like this week's challenge or in a trail race we're confronted with variable levels of intensity that can throw us off our game. Here's how I deal with that variability:   
Choose Your Battles. In a trail race with short, steep up hills, it can actually be better to crush these nice and fast in order to save time despite a spike in heart rate. This week's workout is like that where you will want to choose an aspect of it to focus on that can save you time if you smash it out. For me, these battles will be the burpees. Go hard with these and then use the first few hundred metres of the run as active recovery.
Bite-Sized Chunks. Don't be overwhelmed by the scale of the session in front of you, but just focus on the exercise you're doing right now. Crush it and move on to the next. This will reduce the stress levels and keep you process orientated.
Keep a Reserve. Although you'll focus on the exercise you're doing now, you always want to feel like there is another gear there. This is especially true at the start of the session, but in the final set, just go for it!
Keep Your Head in the Game. In a workout or race with a lot of variety it can be tempting to let your mind wander and allow lapses in intensity. So, instead, make the workout social so you have friends to push you, line up your most energising playlist, and look to smash out each set faster than the previous!
Podcast (workout-of-the-week): Play in new window | Download
Subscribe: Apple Podcasts | RSS | More